Do you need help choosing the best day and night vision binoculars? Well, our handy guide today has a unit or 2 for everyone. Whether you need it for hunting, bird-watching, boating, or for watching concerts, this guide got your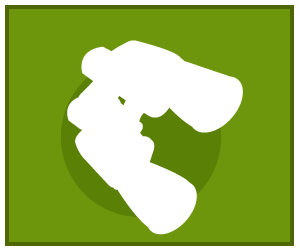 back.
But wait for a second, what do you consider when shopping for a pair of binoculars?
Your ideal type of binoculars is pretty subjective to the type of applications that you intend to use it on. For instance, if you'll be traveling a lot, you'll probably require something compact to fit in your bags. This brings us to our first consideration;
Optical design
Binoculars use a set of glasses and prisms to magnify distant things,animals, and people. Manufacturers use different engineering techniques to arrange these magnification elements in the 2 parallel optical tubes. As such, there are 2 key types of binoculars;
Porro prisms
These binoculars have lenses that are notably wide apart. This feature offers excellent 3D images. Again, since these binoculars have simple engineering requirements, they tend to be pocket-friendlier than Roof prism rivals.
The only problem? They are heavier and chunkier. As such, you'll need to create enough room for them if you move around a lot.
Roof prisms
These have a narrow theme. They are also lighter than the Porros and, therefore, easily portable. These models sport decent optical engineering. As such, they have far much better images.  As expected, they are also relatively pricier.
Key features to consider
Magnification
When shopping for the best binoculars for stadium sports, hiking, and water sports applications, a model with 7x-10x magnification should suffice. For bird watching, you need a unit with higher magnification and larger lenses 42-50mm to help you view the birds' characteristics from afar.
Eyecups
Eyecups help with eye relief when using the binoculars. They place the image at a perfect distance for easy viewing. If you use prescription glasses, or if you intend to share the binoculars among other people, consider a model with adjustable eyecups.
Ergonomics and ease of use
When evaluating the ergonomics of your ideal binoculars, pay close attention to the weight, size, and the materials used. It's also worth checking out the position and size of the focus wheel in relation to the user's size of the hand. Ensure that you can reach it without much hand strain.
Durability
Here, check out the binoculars' rating. Are they waterproof, fog-proof, or weather resistant? If they have no rating, they are probably not safe for use in rainy conditions and the sea. On this note too, checkout the construction material;
Aluminum alloy- It is light, strong, and relatively cheaper
Magnesium alloy– it's lighter than aluminum and, therefore, more ideal for prolonged holding in hands. However, its lightweight design may also cause fatiguing. Its key strength is that it's strong.
Polycarbonate- Binoculars made of heavy plastics are generally durable, corrosion proof, and inexpensive. Again, they are temperature resistant.
Does this matter? Sure! Binoculars with metallic chassis experience regular expansions and contractions which may affect the arrangement of the electronics given enough time.
That said, which are the best binoculars in 2017?
Best Day and Night Vision Binoculars Reviews
ATN BinoX-HD
ATN Binox X-HD is a worthy investment if you really want to have the upper hand while viewing wildlife.
This binocular is a roof prism design. That said, it is compact, lightweight, and easy to maneuver. This model edges the competition in a range of ways.
First, it's usable both day and night. So you won't be totting around a number of binoculars if you intend to stay late into the night. Secondly, this is a Smart model. It sports a gyroscope for image stabilization. This feature coupled by the onboard rangefinder and 16x magnification makes this model the best day and night vision binoculars for hunting.
There's more! ATN Binox-HD also boasts E-compass, E-zoom, Wi-Fi connectivity, and GPS. If you wish to record videos for later playback, the Binox-HD records at 1080p full HD resolution at unbelievable 30fps.
Col-P High-Quality Super Binoculars
Col-P is a Porro binocular. As expected, it's relatively affordable than ATN Binox-HD above but a little bit bulkier. However, we didn't find it overly chunky to make ferrying it around hard. We love that it features an aluminum chassis which makes it lighter than it looks.
This binocular has a really good grip that rivals that of ATN Binox-HD. Its aluminum and rubber body is designed to absorb light. This makes viewing animals and birds during the day so easy. About performance, Col-P boasts 20x magnification and 62m/1000m worth of field of view. These 2 allow you to cover a wider ground without moving the binocular. They also offer crisp images of long distant objects while still being easy to use.
Better enough, it's designed to fit on most tripods. Again, if you love accessories, this one comes with a carrying case and a neck strap.
Perrin Green Camo Binoculars
Perrin Green Camo comes as our next pick for the day and night vision binoculars for traveling, camping, horse, yachting, and hunting among other outdoor fun activities. This model scores well in both design and performance.
Worth pointing out, this is a high-end binocular. Luckily, it's currently on promotion. So if you wish to own a high-end unit without spending much change on it, Perrin could be it.
At 9″x 9″x 4″ it won't be so hard to ferry this binocular around in your luggage. Again, it comes with a strap, and it's lightweight enough to hang around your neck for long hours. But what makes it a really good recommendation is its incredible field of view: 122m/1000m.
We also love its 60×50 magnification strength and large objective lens. These 2 ensure that you get clear and bright images even of the quickest birds and animals. Another nice feature with this binocular is its multi-coated lens.
It's also worth noting its military-style aluminum and rubber body. It's amongst the most rugged we came across. It offers the users a super solid grip no matter how shaky their hands are.
The focusing knob is also large and nicely trod to make maneuvering quick and fast. These lenses also prevent glare and protect your eyes from UV.
Koval Inc. Night Vision Binoculars
Koval lends itself well to anyone who is need of the best binoculars for use in the sea given that it's both waterproof and water resistant. This means that you can use it in rainy and wet conditions without compromising its performance. Its 10-50x magnification and 122m/1000m focus of view indicate that these binoculars also target people who want a little more of the wildlife and birds.
The optical performance of Koval Inc. binoculars is exquisite. It sports all-optical glass lenses that come in handy for most applications. The eye lenses have an eye-friendly green film plate that brightens the scenes and also reduces eye fatigue.
These binoculars' robust construction also proves that you'll be using them for a pretty long time. Koval does use a hard telescopic polycarbonate that offers it good durability and a sleek design that is also not so easy to dirt. It also features leather handles that offer excellent grips even for your children.
These binoculars also come with a set of freebies;
Binoculars bag
Lens cleaning cloth
A neck strap
Conclusion
The best day and night vision binoculars are nice pieces of technology that anyone can find a use for in their daily life activities. Whether you love watching birds, wildlife, or hiking, these units enable you to see far without necessarily moving a lot. And as you have seen above, you need not break your bank to get one of these.