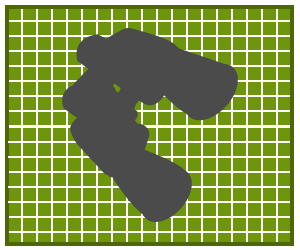 Are you someone who loves hunting or exploring in the dark? Do you use night vision binoculars more often?
If yes, then you have arrived at the right post! We have formulated a complete guide of the best night vision binoculars 2018 for our passionate readers who are looking for their favorite night vision binoculars!
We start off by reviewing the top 7 binoculars for the year 2018 then we move onto a comprehensive buying and commonly asked FAQs.
So without further ado, let's get started!
Best Night Vision Binoculars 2018
Top brands release newer and better night vision binoculars each year. Latest technologies are used to make your night vision even better. Here are top 7 best night vision binoculars for 2018.
ATN NVBNNSCV20 Night Scout VX Gen 2 Night Vision Binocular
ATN is a world famous manufacturer of night vision optics that is producing innovative and state-of-the-art binoculars, monoculars, rifle scopes and other equipment.
Night Scout is a 2nd generation night vision binocular that is used by professionals and law enforcement agencies. It has micro-channel plate attached to Multi Alkali Photocathode that gives you brighter, sharper and more amplified images.
When it comes to magnification power, this binocular can magnify up to 5 times which is great for someone who is looking at distant objects.
Its all-glass optics has a resolution of 40/45 lines per mm. It features a total darkness infrared system with a long-range infrared illuminator.
Night scout has several image tube settings that can help in terms of the depth perception. You can use this binocular during rainy or fog as it is water resistant.
It has a tube life of 5,000+ hours. Unfortunately, you cannot ship Night Scout out of USA.
Pros – Extremely Affordable, Lightweight and Easy to Use
Night Owl NOXB-5 Explorer Pro 5X Night Vision Binoculars
Night Owl Optics believes in fulfilling the high expectations of its customers by investing in R&D and producing best quality night vision products.
Explorer Pro is a 1st Generation night vision binocular using which you can cover a 700 feet field of view.
Similar to Night Scout, it has a 5x magnification which enables you to see far away objects. The glass optics on Explorer Pro is made using metal oxides and fluorides.
With a resolution of 35 lines per mm, it gives amazing results. It comes with infrared illuminators that are built-in. These illuminators give a brighter image in complete darkness.
It has a steel stringer system which includes two electronic intensifiers for more precise images and greater control.
It runs on a 3-volt Type-123 lithium battery that is not included in the binoculars. This battery can survive up to 80 hours. In case of low battery Explorer Pro has a low battery indicator.
Pros – Inexpensive, User-friendly
Bushnell LYNX Gen 1 Night Vision Binocular
Being a leading brand Bushnell manufactures high-quality sports optics and other products that make watching sports all the more fun.
Lynx is a 1st Generation night vision binocular which comes with an image intensifier tube. It has a wide 750 feet field of view. The wide FOV is great for surveillance.
It has a 2.5x magnification power and a 40mm objective lens. Lynx has high-quality AR coated glass optics that is tested rigorously. Its built-in infrared illuminator can help you in viewing crisp images at distance of around 90 yards.
In order to use your Lynx Gen 1 Night Vision Binoculars you need 2 AAA batteries. These batteries are not included in the shipment.
You can use these binoculars in any weather thanks to their weather resistant property. It comes with a tripod mount in order to use it for a longer period of time.
Pros – Lightweight, Durable.
Firefield FF25023WP Tracker LT Waterproof Night Vision Binocular
Firefield is a company that makes products for all the free-thinkers and peace lovers out there. Its sports optics is extremely popular around the country.
Being a 1st Generation Night Vision Binocular, Tracker LT has the ability to show high-quality images. It can magnify objects at a fair distance with its 2x magnification and wide field of view.
Dual tube design combined with built-in infrared illuminator enhances depth perception and offers a brighter view. These IR illuminators are a part of Firefield's Pulse IR Illumination System.
It has a resolution of 36 lines per mm. These are battery powered binoculars with a battery life of up to 72-hours without IR. You have to purchase the 123 battery separately.
Tracker LT has a waterproof design. With its water resistance technology, feel free to use this binocular in water or on a rainy day.
Pros – Gives sharp and bright images, has an ergonomical design
Bushnell 260501 Nightvision, 4×50 Equinox Z Digital Binoculars
With the Equinox Z series night vision binoculars, Bushnell has revolutionized the world of night vision optics. These binoculars are loaded with technologies like image capturing and video recording that are game changers!
To start off, Equinox is a digital binocular with 4x magnification power. Its objective lens has a diameter of 50mm and a vast FOV.
It has the ability to take photos and record videos onto the SD card which makes night visionary even better. Another amazing feature on these binoculars is their day and night viewing. Now you are not restricted to use these in night time only.
With an infrared illumination system and adjustable digital sensors, you can tone down or increase the brightness of your images.
It is compatible with a tripod mount so that night viewing for still objects becomes much easier once your binoculars are mounted. A dial helps in zooming in/out on an object.
The 100% water resistant design is great for shooting outdoors or under water. It operates on 4 AA batteries that can be purchased separately.
So, if you are looking for the best day and night vision binoculars this one is for you.
Pros – Crystal clear view, Easy-to-use.
Night Owl Pro Nexgen Night Vision Binocular
Pro Nexgen is a 1st Generation Night Vision Binoculars from Night Owl. The view and image quality on these binoculars surpasses the quality you get from other 1st generation night view optics available in the market.
With a 5x magnification power and adjustable focus, viewing far-fetch images becomes easy. The superb quality all-glass objective and ocular lenses have a 50mm diameter.
Pro nexgen comes with Built-in columnated infrared illuminator that offers vivid images even in pitch dark. In order to intensify the image, it has two image intensifier tubes.
With these binoculars, you can get a resolution of 35 lines per mm as well as a vast field of view (200 feet at 53 feet). You can achieve a minimum focus range of 6.6 feet.
It has a soft-rubberized texture to it. You can operate Pro Nexgen using a single 123 lithium battery. Please note that the battery is not included in the binoculars.
Pros – Decent vision and Affordable
Sightmark Ghost Hunter 2×24 Night Vision Binocular
Finally, we have Sightmark – a vision optics brand that is dedicated to build your confidence by manufacturing top-notch night vision accessories.
The Ghost Hunter is a 1st Generation Night Vision Binocular with S25 multi-alkaline photocathode. It can offer 2x magnification power and you can get a resolution of 36 lines per mm.
It has a glass objective lens with a diameter of 24mm. It comes with an intense built-in Infrared Illuminator for a vibrant view. The field of view extends 132 feet at 100 yards.
Ghost Hunter is weatherproof and has a composite plastic body material. This item cannot be sold outside US.
It operates on 2 AAA batteries and can last up to 72 hours without IR. Batteries are not included in the package and should be obtained separately.
Pros – Excellent Quality.
Cheap Night Vision Binoculars
We have put this to highlight the best cheap night vision binoculars which deliver a decent quality while being quite affordable at the same time. If you are looking to snag a quality night vision binocular without emptying your pocket, this guide is for you. We hope that at the end of it, you will find a model that suits your night vision needs well and is well within your budget.
SOLOMARK Night Vision Binoculars Hunting Binoculars-Digital Infrared
This is an unbelievably affordable night vision viewing system that comes with all the necessary features. It is suitable for use in night hunting, surveillance in dark conditions as well as birdwatching and any other outdoor activity in the night.
The SOLOMARK night vision is essentially a handheld night vision viewing system. It packs infrared sensitive CMOS sensor and has a quality optic system that lets you view clearly in the night while mitigating any glare. The digital night vision system of these binoculars allows you to view quite clearly with a 2x Digital Zoom. You can also achieve up to 7x magnification with these binoculars without losing clarity of vision. These features make SOLOMARK s quite handy for hunting or wildlife watching excursions during the night.
Another excellent feature of these binoculars is that they can take pictures and record videos of your live view. This means that you can capture videos and pictures in real-time as you use the binoculars. Later, you can view this data on a television or transfer them to the computer. Data is stored on a micro SD card of up to 32 GB, so you get to have plenty of space to store the videos and pictures. This is definitely a great choice of binoculars is you are looking for a combination of quality and affordability.
Sniper Digital Zoom 2X Deluxe Night Vision Binoculars
The Sniper Digital Zoom 2X Deluxe night vision binoculars are another excellent pair of binoculars that pack a solid night vision viewing system. These binoculars come with a built-in IR illuminator. The IR illuminator has 7 different levels of intensity which you can adjust depending on your night vision needs. These options make it easier for you to adjust the binoculars to the exact conditions and circumstances in which you are using the binoculars.
These binoculars are great for use in surveillance, rescue and tactical activities in the dark as well as sport hunting and wildlife watching. The night viewing offers a clear and quality view up to 66 yards when you are operating these binoculars in complete darkness. In light conditions, with some daylight, the binoculars are effective up to 440 yards. The 2x Digital Zoom lets you focus on a particular object and get a closer look without losing the clarity of the vision.
Used as a handheld night vision viewing system, these binoculars come with a neck strap so that you don't have to worry about dropping them. The binoculars are powered by 8 AA batteries, so you can carry spare batteries and make sure you never run out of power supply.
Cassini 8x Green Laser Day/Night Binocular
The Cassini 8X Green Laser Day/Night Binocular with case is one of the most affordable night vision binoculars out there. If you want to get a basic night vision viewing system this is the model for you.
The great thing about these binoculars is that they are fit for use during the day as well as the night. During the day, you can use these binoculars to achieve up to 8x magnification of the objects without losing the crisp clarity of the image. At night, you can switch a button on the binoculars to switch to night mode. The night vision viewing system in these binoculars offers quality viewing up to 100 yards in complete darkness. The design features eyecups which effectively block out any other light from your eyes as you look through the eyeballs of the binoculars.
The optics used in these binoculars are good for use in foggy or misty conditions as well, so this can effectively serve as an all-weather night vision binoculars. Included with the actual binoculars are a carrying case and a neck strap. The carrying case is great if you are going to move around or travel while carrying these binoculars. The neck strap is perfect for outdoor excursions during the night as it saves you the trouble of holding the binoculars all the time.
Theera – Outdoor Travel 80 x 120 Zoom Folding Day Night Vision Binoculars Telescope
This binoculars is offering all the basic features of night vision binoculars. This model is particularly handy if you want to be able to view clearly at dimly-lit concerts or events. The binoculars are also good for use for birdwatching and travelling.
The Outdoor Travel binoculars feature a folding design which lets you fold them through the centre and make them more compact for easier carrying. To add to it, the binoculars are incredibly light-weight which makes them a perfect companion during traveling. The light weight allows you to even hang these binoculars with your wrist using the wrist strap that ships with them.
These binoculars park an Objective Diameter of 21mm with 9.5-degree field view angle. These are decent specifications that let you clear up a dim image within a fairly brief distance. They may not be the ideal tool for nightly hunting or surveillance but they definitely makes activities like birdwatching or concert-viewing more fun.
Things to consider when choosing the Night Vision Binoculars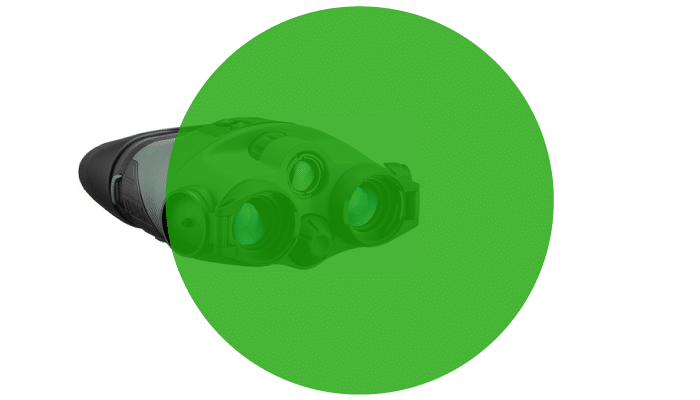 Confused about which night vision binoculars are prefect for you? Don't know which one will suit you the best? Here are the most important things that you need to consider when choosing night vision binoculars.
Environment You will use
The environment in which you will use your night vision binoculars is of utmost importance. So, sit back and think where you will use your binoculars?
If you are going to keep your binoculars indoor and they will not have any exposure to water then there is no need to buy water proof or weather resistant binoculars.
Climate plays a major role in deciding which night vision binoculars you need. If you need these night vision binoculars for outdoors where the weather is unpredictable then you should definitely choose a water proof version.
If you will be using your night vision binoculars in harsh weathers then you should go for those that are made up of sturdy material that can withstand harsh climate.
Think about the distance that you want your night vision binoculars to cover. If you are buying these for hunting or shooting purposes then you definitely need one which can cover a larger and wider area.
Image Quality
Image quality is determined by the type of lens you use. Manufacturers are using latest materials in order to get the best image quality.
Generally, glass lenses are considered way better than plastic ones. These offer superior image quality without making them too blurry or distorted.
Glass lenses are coated with anti-reflective materials that enhance the image quality. C coating refers slight coating, FC refers to a single layer of coating all over the glass lens and MC is used for multiple-layers of coating throughout the glass. The greater the coating, better the image quality!
Resolution
You see those small details in your regular HD pictures? These are because of the amazing Resolution of your cameras.
Same is the case with binoculars, the more details you are able to see the better is the resolution. For amazing resolution you need a night vision binocular that has a bigger lens.
Resolution is measured in lines per mm. If you are someone who needs binoculars for hunting and military purposes, then we recommend you to go for a pair of binoculars with high resolution.
Our top 7 best night vision binoculars have resolution ranging from 35 lines per mm to 45 lines per mm.
Magnification
Found a 5x night vision binocular and confused what it means? Don't worry! 5x basically represents the magnification power of this binocular.
It means that a certain binocular can magnify objects up to 5 times. Normally, 5x 7x and 10x magnification power systems are available.
Using magnification, an object that is 50 feet away appears to be only 10 feet away from you. It becomes 5 times closer when you look at it.
It becomes difficult to hold steady those night vision binoculars that have a 10x or greater magnification.
Magnification is interchangeably used with power. But you should keep one thing in mind, higher the power lesser is the brightness of your images.
Field of View
Field of View measures how wide you will be able to see through your lenses. It is generally expressed in degrees or feet visible at a distance of 1000 yards.
There are two types of field of view – wide and non-wide. The non-wide reaches up to 270 feet at 1000 yards where the wide FOV can present a view of around 300-400 feet at 1000 yards.
Field of view is written in degrees on the outside of your binoculars.
Remember the wider your field of view gets the lesser clarity it has. If you wish to purchase your binoculars for hunting purposes or for star gazing, then a wide FOV night vision binoculars are highly recommended.
Lens diameter
Binoculars are generally identified in this partner – 5×50 or 10×25. The number written after x is the lens diameter that is measured in millimeters.
Diameter of a lens determines how much bright your view will be and how much light will be captured in the lens. This means as the diameter increase you view becomes brighter.
Even if all the specifications and features on 2 binoculars are same, you end up with brighter images on the one that has a large objective lens diameter.
Night Vision
This is a very obvious trait that you need to look for in binoculars. Normal binoculars are different from those used for night vision.
So before purchasing one for yourself make sure you need to make sure that a particular binocular is made for night vision and have all the essential elements used for looking in darkness.
Night vision binoculars are very different from regular binoculars; that is why they are more expensive and hard to find.
Photosensitivity
Photosensitivity refers to ability of photocathodes in a night vision device to pick up natural light and then convert it into an image. The higher the photosensitivity of a night vision binocular, the better it performs in darkness.
There is an important factor that you should consider here. You need to check in which spectrum does a device has higher photosensitivity.
This means high photosensitivity in blue light is not considered as something very special. You won't get amazing results with this spectrum.
Generally, Generation 2 binoculars have better photosensitivity as compared to Gen 1 binoculars.
Photosensitivity is also known as Photoresponse or Photocathode sensitivity. It is measured in microamps of current per lumen of light (uA/lm).
Focus range
When it comes to focus range we are primarily talking about the minimum focus range because the maximum focus range is same in all night vision binoculars i.e. infinity.
You will always found focus range written as some number, the unit it is measured and that it goes to infinity. For instance the range of focus on ATN NVB5X-2 is 10 m to infinity.
Focus range is measured in meters, yards or feet. Consider your use of the night vision binoculars in order to determine the minimum range of focus.
If you are purchasing your night vision binoculars for hunting purposes or bird watching then you should go for a minimum focus of range of 15 feet.
Batteries (if available)
Although batteries are not something very important when it comes to choosing a night vision binocular, yet they can play a role in deciding which one is best for you.
Many binoculars operate on batteries. Some use 1 while others can use up to 4 batteries at a time.
For someone who does not want to spend a lot of money on batteries, try finding a night vision device with one battery like Night Owl Pro Nexgen Night Vision Binocular (5x) or Firefield FF25023WP Tracker LT Waterproof Night Vision Binocular, 2 x 24. Both of these run on a single 123 lithium battery.
Another thing which is connected to batteries is the overall battery life of a night vision binocular. If you are someone who has to travel a lot at night and who cannot change batteries regularly, you need to select a night vision binocular that has a long battery life.
Almost all the manufacturers provide how long a battery does survive while operating a certain model. Battery life is provided with infrared and without infrared.
Turning infrared on sucks up a large amount of your battery so don't forget to check this feature. You can use this information to choose the best night vision binocular for you.
Remember that you need to purchase batteries separately. Don't expect a night vision binocular seller to include batteries in your package.
Dimensions
Dimensions of your night vision binoculars are its size, primarily its length, width and height. More powerful binoculars are large in size and therefore in dimensions as well.
Think about where you will store your binoculars and how you will carry them. Do you have a lot of space or a designated area to keep your binoculars? If yes, then dimensions shouldn't really matter.
Dimensions are generally given in inches.
Weight
Depending upon their features, Night vision binoculars come in a variety of weight and size options.
For instance if you wish to go for night vision binoculars with a bigger lens then be prepared to handle a heavier binocular. Same is true for binoculars with high magnification.
So this means the more powerful your binoculars are the heavier they get. There is clearly a trade-off. Light weight binoculars are generally less-stressful and they reduce user fatigue.
Now you have a choice, whether you wish to carry high performance binoculars that weigh more or ones that are a bit lighter and offer less clarity.
A good option is to purchase a tripod mount with your binoculars so that you can mount them in case you will use them for longer hours.
You can also buy a strap so that you don't have to carry your binoculars in your hands.
Material
Night vision binoculars are made of a variety of materials combined together to offer the most reliable devices. Each part has its own material that will be discussed shortly.
The most important part on a night vision binocular is the image intensifier tube that it has. It is made up of very fine optic glass fiber that withstands high temperature.
This tube has phosphor and gallium arsenide in it. The tube is covered by metals like aluminum and chromium.
The lens called the objective lens is made up of glass material and has several coatings on them. We have discussed coatings earlier. Just to re-emphasize look for lenses that have maximum coating on them as this gives better image quality.
Also, while choosing binoculars look for the ones that are sturdy and lightweight as well. Ask the seller if the material is strong and reliable.
Waterproof and Fog-proof
Some night vision binoculars come with the feature of being waterproof while others are fog-proof. There are some which come with weather resistance.
What happens is that when temperature changes your binoculars tend to fog up. This buildup of moisture on your lenses is not only harmful for your device but is frustrating in general.
You can prevent this from happening by getting fog-proof binoculars. These are made using inert gas that doesn't condense when the temperature changes. This keeps your lenses free from fog!
Weather resistant devices can withstand rain, light showers, heat and snow. But if you plan on submersing your night vision binoculars in water then you should definitely go for waterproof ones.
Keep in mind that weather resistant binoculars are not completely waterproof.
Safety
Finally your last concern while purchasing night vision binoculars is how safe they are for you and for the people around you.
Are there any hazardous materials that your little one might swallow? Do you think your infrared light might actually damage someone? Is the device approved by the relevant authorities for use?
Don't forget to ask all of these questions before buying your night vision binoculars.
Keeping all these aspects in mind, you are now ready to make the right decision!
Best Night Vision Binoculars Brands
Now we look at 4 of the best night vision binocular brands.
ATN
ATN Corp is a world famous binoculars brand that has produced hundreds of thousands of binoculars for its customers. It has been 2 decades since ATN is manufacturing high quality and innovative night vision optics.
American Technologies Network (ATN) has gained popularity because of its Weapon Scopes that were released back in 2011.
IN 2012 their new series of monoculars hit the market and they received incredible response. Military clients and law enforcement agencies were particularly happy with this release.
ATN buys only the best and most innovative Image Intensifier Tubes for their night devices from top companies located in Europe and America.
Their NVB series night vision binoculars are extremely user-friendly. They are all waterproof as well as fog proof. These have high magnification power starting from 3x.
Night Owl
Night Owl Optics has put in years of innovation and investment in order to reach where it is today. They are fully aware of the high expectations of their customers and they strive day after day to meet these expectations.
They have developed iGEN technology that surpasses that of Generation 2 and is similar to that offered by Generation 3.
With their iGen technology, Night Owl is all set to conquer the world of night vision devices. iGen offers a resolution of 30 lines per mm and superior light amplification as well.
Bushnell
Bushnell is committed to providing clarity, durability and latest technology to its customers. Using these components, it aims at boosting the confidence of night device users.
The brand achieves clarity by using fully multi coated optics that use XTR technology to make the coating easier and consistent.
Bushnell night vision devices are made with premium quality materials that are argon and nitrogen purged in order to keep them fog-proof. They have unmatched durability that is above normal standards.
Bushnell has come up with breakthrough technologies that have stepped up their game. You are sure to get clear and vivid image with your Bushnell night vision binoculars.
Firefield
Firefield has made it clear that it is not for unjust and coward hearted individuals whose purpose of purchasing night vision devices is to harm others.
Since 2009, Firefield has specialized in producing top-quality night vision optics for all the hunters and shooters out there.
Firefield also aims at producing the best products. With Firefield night vision binoculars, you can see far and wide in order to achieve victory under any circumstances!
What are the Night Vision Binoculars? (Night vision binoculars explained)
Is this your first time reading something about night vision binoculars? Are you not familiar with what actually these things are? If yes, then don't worry! We are here to assist you!
Generally, Binoculars are devices that consist of two telescopes joined side by side in order to view distant objects. You are able to see 3-D objects just the way they appear to naked eye.
They consist of 2 optical lenses that offer magnification and allow you to see using image intensifier tubes.
Night vision binoculars are primarily divided into two types – one that has 2 pieces of everything ( 2 eye pieces, 2 image intensifier tubes and 2 objective lenses) and the other that has 2 eye pieces and 1 image intensifier. There is also a single objective lens on the second one.
Night vision binoculars help in viewing long ranges at night. The higher generation binoculars that you choose, the brighter and sharper image you get.
Night vision binoculars – how do they work?
The working of night vision binoculars is quite similar to that of telescopes. In reality, binoculars are nothing more than 2 telescopes joined together.
So what happens is that in normal binoculars the objective lens that is present at the front of your binoculars collects light and puts it to a focus in your eye piece.
In night vision binoculars as there is no light outside or very little light, image intensifier tubes present within them do the task of providing light or intensifying it and then sending it to your eye piece.
Image intensifier tube works on the principle of image enhancement. It receives power from batteries or cells that are compatible with a certain model.
At the very beginning of one such image intensifier tube there is a photocathode which helps in converting light energy to electrons.
Then these electrons pass through a microchannel plate (MCP) which multiplies the number of electrons by a thousand. It does this by producing more electrons.
This plate is actually made up of fiber optic material which uses cascaded secondary emission in order to generate thousands of electrons.
These electrons then pass through a phosphors screen. It is this phosphors screen that gives you the green night vision image.
This image is finally viewed through an objective lens that helps you in magnifying and focusing.
This procedure is different from that of normal binoculars. The image that you get with normal binoculars is upside down initially. You can go with such an image in case you are stargazing but this cannot work in other situations.
So in order to keep the image in an upright position prisms or block of glasses are added in the binoculars. These glass pieces keep the image the way it is in real life without distorting its positions in any direction.
Factors such as magnification, aperture and field of view play an important role in the functioning of these night vision binoculars.
Who needs the Night Vision Binoculars?
Night vision binoculars usually cost a fortune and are not for everyone out there. If you think you need a night vision binocular or not then here are a few people who need these ones in their life:
A law enforcement officer or military personnel needs a night binocular in order to carry out missions and tasks at night.
A hunter, fisherman, wildlife researcher and a safari nomad who travels high and low in order to find his favorite bird or a deer that only comes out at night. If you are a hunter then you might want to consider night vision binoculars with greater magnification power and more resolution.
An explorer who stays out in the wilderness day and night in order to explore his favorite parts of the world. You want your night vision binoculars to see the beauty of nature at night!
If you have set out on an expedition in your boat and that too at night, you will most probably need night vision binoculars in order to navigate and look for nearby land.
A star gazer who loves a sky full of star needs night vision binoculars. You want to be mesmerized by the beauty of sparkling stars and occasionally experience the unique feeling of looking at a falling star.
Are you from the pest control department who has to make sure if their chemical is working properly day and night? Use night vision binoculars for a clearer and more detailed vision at night.
Night vision binoculars can also be used by people who work for maintenance and repair department. Their might be a breakage or leakage in a skyscraper with hundreds of pipes and wires and you need to spot the damage at night.
Such a task cannot be done with bare eyes. You surely need such devices to help you out in performing your duties in a better way.
Are you a farmer or a farm owner who has to look out for his farm even at night time? You can use night vision binoculars to look at far fetch corners of your farm without actually walking all the way!
Fire fighters require night vision binoculars in case there is fire at night in a multiple story building. They need to know the number of people in the building as well as the intensity of the fire.
Night vision binoculars are primarily for all the above mentioned people. But if these are something that attracts you and you want to buy them for fun then that's totally up to you.
Using night vision binoculars for what?
You need to determine the use that you will get out of your night vision binoculars. Is it simply for star gazing or being a law enforcer it is mandatory for your job or you need it for hunting.
Night vision binoculars come in really handy if you are someone who likes hunting. It gets really dark at night in the forest and you simply cannot use your naked eye in order to spot a deer or even a lion.
With a help of a night vision binocular you can precisely look in your target from a very large distance and can then proceed towards them in a really quiet manner.
If you have just sparked interest in astronomy and you want to study it in depth by sky watching then night vision binoculars are definitely what you are looking for.
Star gazing becomes really easy when you use night vision binoculars especially those with a wide field of view.
Safari explorers and wildlife observers can also benefit from night vision binoculars by looking at species that are only visible at night.
Planning on joining a law enforcement agency? If yes then you definitely need a night vision binocular. This is because these agencies carry operations at night and in areas that are pitch dark.
They have to ensure your security at night as well and for that they need to keep an eye! So in order to facilitate their vision at night they need such binoculars.
Being Military personnel you need to spot your target from really far away and that too at night time. A night vision binocular will make your life much easier.
Now that you know what the purpose of night vision binoculars is, you can definitely determine whether need this device in your life or not!
Choosing night vision binoculars or monocular?
When going out in the market to purchase binoculars, your store officer will offer you two options – whether to go for a monocular or a binocular. There's just a slight difference between the two.
A night vision monocular consists of a single eye piece and is considered as a low power telescope. It is normally so small in size that it can even fit in your pocket.
Monoculars with magnification of 5x or 6x are generally encouraged. A monocular that offers a 10x magnification is very hard to use as it does not remain steady.
A monocular is not a substitute for a binocular. You should purchase a night vision binocular if your aim is to view a large area.
A con to night vision monocular is the one-eye viewing. This causes a lot of stress on your eyes and it becomes difficult to view with both eyes.
Another downside to night vision monocular is experienced by all the people who wear glasses. The vision it offers is much poorer and distorted.
For reference, a monocular that has the specification 10×40 is half the size of a night vision binocular. Thumb sized monocular comes in size 5×15.
Size is what encourages many people to go for monocular instead of binoculars. Size wise and weight wise a night vision monocular is very compact and light.
In terms of cost, night vision monocular is fairly inexpensive when compared to binoculars. The cheaper ones are extremely affordable.
Interestingly, 1st generation night vision monocular costs the same as a normal monocular. The main price difference comes when we are looking at a 2ndgeneration monocular.
If you wish to go for birding at night, then you should choose night vision binoculars as these offers a greater field of view, more focus and comparative steadiness.
On the other hand, if you are using a night vision monocular for hiking, camping or golfing, you have made an excellent choice.
You might also find night vision googles that have gained popularity through the past decades. These googles are worn by military men and law enforcement agents.
Googles are fairly easy to use as compared to monocular or binoculars. You can get away with the same high quality image and that too in such light weight googles.
Conclusions
Finally, we have reached the end of our comprehensive guide regarding the best night vision binoculars for the year 2018.
We started off by reviewing the top 7 night vision binoculars for our readers then we moved onto the things that you should consider before buying these binoculars.
After that we gave brief descriptions about our top 4 night vision binocular brands. Finally, we answered some of the frequently asked question for our night vision device lovers!
We hope that our in-depth compilation of the best night vision binoculars 2018 was helpful as well as informative for our lovely readers!