The best digital night vision scope always keeps you ahead of your targets' moves while hunting at night. Also known as starlight scopes, these units utilize night vision technology to boost your sight in low light conditions.
Originally designed for military use, these units are becoming more available to the civilians. They have also evolved to a higher degree and are, therefore, more functional.
In this article, we'll be looking at 3 models that we believe to be among the top digital night vision scopes you can spend your money on this year.
Let's get this party started!
Best Digital Night Vision Scope Reviews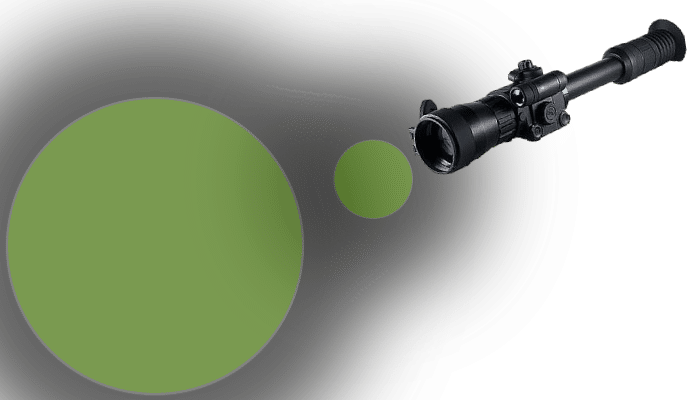 Armasight Drone Pro 10X
Looking for an affordable digital night vision scope for your night hunting? This might be the guy to consider. Armasight is a hit brand with some really good night vision accessories. We've had several scopes from this brand including the Apollo 640 which is a real badass on our other article of the best thermal imaging scopes for night hunting.
That said, it's no surprise that Armasight Drone Pro 10x heads this list. What's there to like about the Drone Pro 10x?
Use it handheld or mounted on your rifle
One reason why you'll likely love this scope is that you can mount it on your rifle or hold it in your hands. This is a huge bonus feature especially if you intend to use the scope for security surveillance around your property. Talking of handheld operations, this scope is lightweight at 2.24lbs. It also has a rugged body with incredible grips for prolonged holding.
Again, it has a lever-cam clamping system that mounts on your rifle's Picatinny rail. This process is easy, fast, and highly reliable.
Performance
Water resistant
A scope is only as good as it performs in the field, right? The biggest story with this scope is its water-resistant design. This is probably what makes the Drone Pro 10x the best night vision camera for winter and rainy days. As such, you can rely on it for camping, hunting, water sports, and search missions.
10x magnification
You see, what makes a scope is not necessary how easy it is to identify an animal creeping in the darkness. What matters is the ease of making perfect shots. On this note, Armasight Drone Pro 10x offers 10x magnification power.
This strength offers you greater visibility of your targets even in low light conditions. For enhanced visibility performance, this magnification is coupled with real-time image processing. This reduces lag and ensures that you shoot right at the animal not where it was.
Pulsar PL76315 Digisight N770 Night Vision Riflescope
Usable day and night
Pulsar PL76315 is amongst the fanciest night vision riflescopes that you'll find on the market today. Similar to Drone Pro 10x above, this scope is usable both day and night.
Does it matter? Yes! In most instances, if you hunt both during the day and at night, you'll need to carry 2 scopes; one for day use and the second for use when darkness falls. This brings the need to dismount the scope and switch to the other one regularly.
This might be so inconveniencing especially if your scope requires some tools to lodge and dislodge. Again, you'll also have to re-train your eye to use the new scope. All this hassle is eliminated when using a scope that serves well in both situations like the PL76315.
Best for short range applications
If you're looking for a scope to use for short range shooting, this is it. Pulsar PL76315 has a reliable detection range of up to 450 meters. What makes it so good though is its incredible magnification power of 4.5X. This seems quite lower compared to Drone Pro's 10x magnification power.
However, it's still quite effective given the range that this unit detects. In fact, most professional hunters prefer lower magnification power since images get blurrier with higher magnification. In addition to this, Pulsar PL76315 also boasts 1.5x digital zoom capabilities. This brings your targets even closer but in a smooth way to eliminate blur.
Would you like a video record of your shots?
If you like recording your shots- which is quite interesting, by the way- this digital night vision scope makes it possible. You can simply connect an external recording device to the scope via the video out jack and record everything for future playback.
Sightmark Photon 6.5x50S
Cheap digital night vision scope
Anyone working on a tight budget but still requires a reliable digital night vision scope is better off with Sightmark Photon 6.5 50S. Sightmark is the cheap model that we have on this list. Photon 6.5 50s also ranks highly as one of the digital night vision scopes for beginners. But don't discredit it just yet.
It's all-weather resistant
One thing that's quite impressive with this scope is that it's designed to withstand all weather elements. That said, you can use it in different weather conditions including rainfall, fog, and mist. This scope also resists damage from bright light exposure. It also offers you good long eye relief. All these features amount to a scope that you'll probably hang on for a couple of years with good care.
Ease of use
What makes this unit a great recommendation is its incredible ease of use even for the amateurs. Similar to the rest of the models above, you can use this scope for your day and night operations. It is lightweight at 2.4 pounds. As such it won't be adding so much weight to your rifle. However, you might consider purchasing a rifle bipod for additional support.
Clear images
About performance, Sightmark Photon 6.5x 50s features 6.5x magnification power. It also has a high-resolution 640 by 480 display coupled with an onboard 810nm led IR illuminator. These features doubled with the 6-style reticle contribute to nicely visible images that make shooting easy.
Can you record videos with this?
Sure! The Photon also offers video output through which you can connect your video devices and capture every moment.
Conclusion
Needless to mention, Armasight Drone Pro 10x emerges as our best digital night vision scope in our reviews today. What makes it a hit on the market its great detailing and functionalities. On the other we have the Sightmark Photon 6.5x. It's weather-resistant, reliable, and more affordable for the hunter on budget.