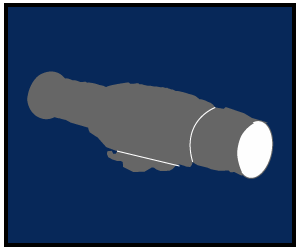 A wide range of thermal scopes are available out there and amidst such a variety, it can be somewhat hard to find the best thermal scope 2018.
We aim to make the task easier for you by bringing together a brief guide towards finding a suitable scope as well as a shortlist of top thermal scopes from leading brands.
After reading this guide, not only will you be able to find a thermal scope that best fits your needs, you may be able to compare various scopes and find one that you like within your budget range.
Best Thermal Scope 2018
Thermal Scope How It Work?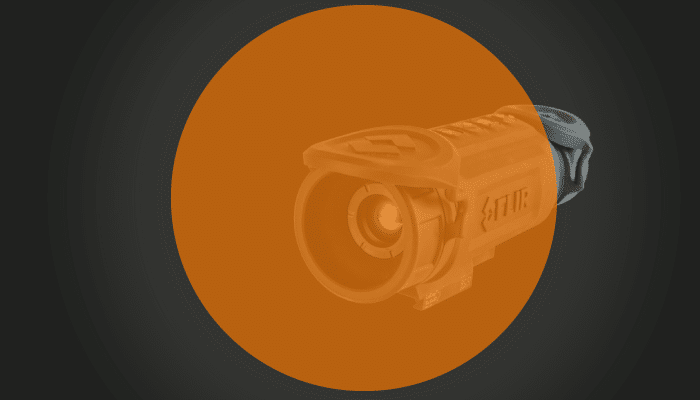 All animals (such as Coyote, Hog, Deer…) emit a certain amount of heat. This heat, although invisible to our eyes, can be detected using thermal imaging sensors.
Thermal imaging sensors can, for instance, detect an animal even when it is hidden inside a field by detecting the animal's heat signature and creating a map based on it.
The surrounding environment around an animal also carries some amount of heat, so thermal imaging works by bringing in contrast the differences in heat between the target animal and the surrounding area.
On a more technical level, the infrared heat signature of an image is received by a lens inside a thermal scope. This signature is scanned by the lens and a thermogram is created based on it. It is this thermogram that is visible to the viewer looking through the thermal scope.
Compared to night vision scopes which always need at least some time which is then amplified, a thermal scope can work perfectly well in pitch-dark conditions as well as through smoke, haze and debris.
It is this versatility of thermal scopes which endears it to professional hunters, shooters and law enforcement agencies alike.
How to Choose a Thermal Scope
1. Magnification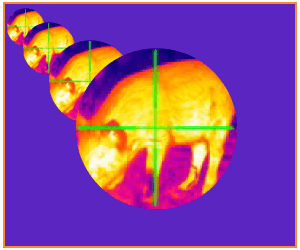 Magnification is the ability of a thermal scope to enlarge a distant object by magnifying it, allowing the viewer to see it up-close. Magnification has its pros and cons. If you are going to use the thermal scope for viewing objects at long distances, you need to have a thermal scope that offers good magnification.
However, greater degrees of magnification may often come at a cost to the quality of the image. For instance, if you are viewing objects at long distance through scope magnification, it may pixilated or distort the image, blurring out the details of the target.
Most thermal scopes come with specific details regarding their optimal magnification distances. Some may even come with multiple magnification options, allowing you to balance between image quality and image magnification as per your needs.
A greater magnification may also reduce the resolution of the image and the refresh rate may be slightly slower. This means that if you use a thermal scope to magnify a very distant object that is moving, or if you magnify such an object while on the move yourself, you may experience some lag in the image refreshing.
2. Resolution
Much like the digital displays, a thermal scope relies on an imaging technology which makes use of image resolution to display a clear and crisp view. A simple rule of thumb with thermal scope resolution is that the lower the resolution is, the lower will be the quality and clarity of an image. And the higher the resolution is, the clearer the image will be.
Another upside to a high resolution is that you are able to zoom in at target objects without losing too much of the image quality. This is not true for low-resolution scopes which begin to display a distorted and pixilated image when zooming in on an object.
Resolution is incredibly important in a thermal scope and if you end up purchasing an expensive scope with poor resolution, it will be a waste of money. So your best bet is to ensure that you find a scope with the highest possible resolution while staying within your budgetary limits.
3. Color Modes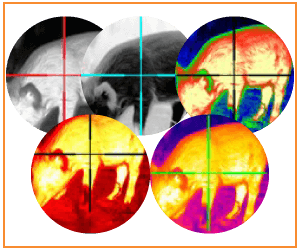 Thermal scopes come in monochrome or color options. A monochrome thermal scope displays the heat map in shades of grey.
Depending on the settings of a monochrome scope, it may display a warm object as brighter than the surrounding environment. A color thermal scope, on the other hand, is able to display the differences in temperature through various colors, providing a colored heat map.
Both types of scopes are highly effective although if you're looking for the absolutely best option, the color scope may help you more accurately navigate in the dark, smoke or haze. The upside for a monochrome scope is that although it is almost as effective, it costs significantly less.
4. Reticle patterns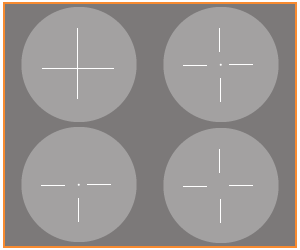 Different thermal scopes come with different reticle options. A reticle is simply a crosshair pointer that helps you accurately close in on a target object. Some thermal scopes come with a four-line standard reticle while other may feature a single-dot reticle for pinpoint accuracy.
Among four-line reticles, you can choose from reticles with thicker lines and those with fine lines. Some thermal scopes may come with a variety of different reticle options, allowing you to switch between them as needed. And yet other scopes may come with no reticle pattern at all.
At the end of the day, the choice of a reticle pattern really depends on your needs and preferences. For instance, if you're going to go night hunting using a thermal scope, a crosshair four-line reticle will be very useful. On the other hand, if you are not going to use a thermal scope for very accurate and targeted viewing, you may even do away with the reticle and go with a scope which doesn't offer one.
5. 30 or 60 Hertz Refresh Rate
The refresh rate of a thermal scope is simply the rate at which the scope refreshes the view. As a general rule of thumb, the more frequently a scope refreshes the scene, the more clearly will you be able to detect any movements in the scene. On the other hand, if the refresh rate is too low, you may see a sort of lag in the image being viewed through the scope.
Most thermal scopes come with a 30 Hertz or 60 Hertz refresh rate. Choosing the right refresh rate really depends on your preferences. If you are going to use the thermal scope for static viewing with the target objects moving slowly, a 30 Hertz refresh rate is fine.
However, if you are going to use the scope to view objects that move quickly, or if you are going to use the scope while moving yourself, a 60 Hertz refresh rate will deliver you a far clearer result.
6. Optical or digital zoom
Most thermal scopes come with either a digital or optical zoom, or a combination of both. Zoom allows you to magnify a distant object or target while viewing it through a thermal scope. A digital zoom accomplishes this by making use of software and related technologies.
It works fine when you are zooming in at an object located close by but if you zoom in on a distant object using a digital zoom, the resulting image may have a significantly lower resolution.
An optical zoom, on the other hand, makes use of a lens in magnifying a distant object and is able to retain most of the quality of the original view. As a result, magnification using an optical zoom delivers a crisper image.
A good balance between the two is to get a thermal scope which utilizes both digital and optical zoom in magnification.
7. Objective Lens
Objective lens is the lens that is used in a thermal scope. The most important thing to consider regarding an objective lens is its diameter. If the diameter of the lens is small, it offers a narrower field of view and will not operate very well in low light conditions because it does not admit sufficient light.
On the other hand, if the diameter of the lens is large, it offers a greater field of view. At the same time, a larger lens lets in more light, allowing you to see more clearly through the scope in low light circumstances.
Some scopes may even come with adjustable objective lens, allowing you to tweak and control the focus of the scope better. An adjustable objective lens if best suited for your needs if you are going to use the scope to focus on distant objects while maintaining good clarity.
8. Battery Life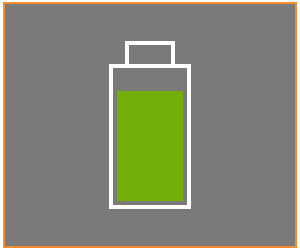 Thermal scopes operate on battery power. The battery options can vary greatly and usually the more high-end a scope is, the longer is the battery life it offers. Unlike night vision scopes which can offer a much extended battery life on a single charge, thermal scopes have a more limited battery life on a single charge.
A good quality thermal scope may offer power for nearly 8 hours after a single charge, which should be sufficient for a single excursion in dark circumstances. Most, if not all, thermal scopes use lithium ion batteries. Some scopes may even come with spare batteries or a quick 1-hour charger to boost the battery power in times of urgent need.
9. Dimensions
The dimensions of a thermal scope may refer to many things, such as the size of the eyepiece, the length of the scope or its weight. In general, scopes which carry larger lenses or feature a wider variety of features tend to have larger dimensions. This also means that they are heavier than their lighter counterparts. Scopes with smaller lenses and more basic features consequently weigh less.
You have to determine your own needs and preferences when finding a thermal scope of the right dimensions. For instance, if you want to view objects over longer distances and need a thermal scope that can work steadily for long hours, you will need one with a larger lens and a larger battery.
You will have to be ready to carry such heavier scopes, however, which can become quite tiresome when you are outdoors for many hours. Scopes with larger dimensions also cost more in comparison to the more basic and lightweight dimensions.
However, in the case of the high-end scopes, the manufacturers may be able to deliver exceptional quality and all the relevant features in a very compact design.
10. Material
A wide range of materials may be used in the construction of a thermal scope, especially when it comes to lens material. In general, glass lens are not used in thermal scopes simply because glass is an insulator material and does not allow passage of heat. This makes it impractical for thermal scopes because such scope's very function depends on receiving heat signals from the target objects and creating heat maps based on that.
Germanium is a more commonly used material in thermal scope lenses. Germanium is made into a transparent glass-like material. It then provides the same lens-like properties as the glass while also allowing thermal information to pass through its surface. In general, germanium is quite expensive as compared to glass which may explain the most thermal scopes.
Zinc Selenide is another material that may be used in the construction of thermal scope lenses, although it is less frequent. ZnSe is particularly well-suited for use in conjunction with the infrared spectrum which also makes it very well-suited for thermal scopes as well.
11. Weight
A thermal scope which offers more power options and comes with numerous extra features may also carry more weight. In comparison, a scope with a fixed power source and carrying only the rudimentary features, may weigh a lot less.
The weight of a scope is an important factor because you will probably mount the thermal scope of your rifle. And you may have to carry your rifle for extended periods of time when on hunting or shooting excursions.
At such time, it is worth your while to trim down the weight of your equipment as much as possible. On the other hand, if you're not going to have to carry the rifle and the scope for long periods, you may not concern yourself too much with the weight and go with slightly bulkier models without worrying.
12. Brands
A huge variety of thermal scopes are available in the market today. These are offered by a number of brands and companies. Following are the most acclaimed, recognized and popular brands in the thermal scope market.
Armasight: Armasight has been around for a long time and the company's name is synonymous with quality night vision products. These include the huge range of thermal scopes offered by the company. Armasight's thermal scopes come with a huge and diverse variety, and are meant for everyone from law enforcement agencies and military units to professional hunters and commercial users.
ATN: ATN, short for American Technologies Network, is another giant in the world of night vision products and technologies. The company is known for continuous innovation and a commitment to quality and excellence. This is well reflected in the range of thermal scopes offered by ATN. ATN thermal scope range from inexpensive scopes meant for casual enthusiasts, to very expensive scopes that are meant for professionals and state agencies.
FLIR Systems: FLIR Systems is one of the oldest players in the world of thermal scopes and thermal imaging devices. The company has been in business for more than half a century and is recognized as a reliable brand by professional shooters and thermal scope users around the globe. A testimony to the company's reputation is also the fact that FLIR Systems' thermal scopes are used by law enforcement agencies and elite military units.
Thermal Scope Reviews
#1. IR Defense IR Hunter Mark II 640 60hz 35mm Thermal Rifle Scope – Best for Hunting
The IR Hunter Mark II rifle scope is one of the best thermal scopes out there.
IR Defense is a relatively new company in the thermal scope and thermal imaging market but the company has been consistently manufacturing some of the top thermal scopes.
This commitment to quality is reflected in the IR Hunter Mark II scope as well. The Mark II scope comes with a range of more than 1000 yards, making it a perfect companion for nightly excursion, especially during hunting trips.
The scope features a 30 Hertz refresh rate which is good enough if the viewer and the object being viewed are static or moving only slowly.
The Mark II scope offers a resolution quality of 640 x 480 which delivers a fairly decent image quality when you are not using the magnification feature. Even with some magnification, the resolution remains good enough for clear viewing in the dark.
Magnification options for this scope include 2.5x and 20x digital. 20x magnification gives the maximum zoom-in possible with this scope although you may not get the best image quality at such magnification.
The scope comes with a 640 x 480 OLED display and offers a battery life of 5 hours upon a single charge. The field of view offered by this scope is 12 degrees.
Mark II is resistant to water and foggy conditions, so it can be safely used through all weather conditions. Weighing only 840 grams, the scope is light enough to carry easily for long hours and is convenient to store.
#2. ATN ThOR 640-1-8x, NMS, 640×512, 19mm, 30Hz
ATN is a company that needs no introduction when it comes to thermal scopes. The company has been pioneering thermal imaging and night vision products for more than 2 decades now and is almost synonymous with high-quality and reliable products.
ATN ThOR is a shining example of the quality and performance that is delivered in most ATN thermal imaging products. ATN ThOR offers a wide range of pertinent features which is why it is a favorite among thermal scope enthusiasts.
The scope has an incredibly sturdy yet lightweight body, being constructed from aircraft-grade aluminum material. To make it a perfect fit for a wide range of thermal imaging needs, ATN has included five reticle patterns with the scope.
These include crosshair with dot, duplex, post, ballistic and post with dot. Thanks to such a wide range of reticle options, the scope is well suited for hunting, target-practice and a wide range of other thermal imaging applications.
Another stand-out feature of ATN ThOR is that its battery offers more than 8 hours of lifetime upon a single charge. This is quite extraordinary compared to most other thermal scopes in the same range which fall well below the 6-hour mark.
The scope can run on 1, 2 or 3 batteries, allowing you to trim down the weight of the scope when requiring minimal battery usage.
ThOR also features 12 color pallet options, allowing users to accurately read the heat map of a given image using multiple color tones. ThOR thermal scope is certainly one of the best options out there.
#3. Armasight by FLIR Zeus 336 3-12x50mm Thermal Imaging Rifle Scope – Best for Coyote Hunting
Armasight is another well-recognized and reputable brand when it comes to thermal imaging and night vision products. The company's thermal imaging products are used by hunters, law enforcement agencies and shooters alike.
Zeus 336 thermal scope from Armasight reflects the hallmark quality and versatility offered by the company. This scope has been designed to be perfectly operational and useful, both during the day and the night.
Armasight has designed the controls of this scope with user-intuitiveness in mind. The direct button adjustments and combination as well as the electronic menu are laid out so that a first-time user can easily navigate through them.
It also allows a user to quickly customize the control to reach the desired scope performance while on the go.
The mounting mechanism used in the Zeus 336 is also very intuitive, allowing a user to quickly mount or dismount the scope from a firearm. The scope offers high-quality electronic zoom with 1x, 2x and 4x options. It also offers an optical magnification of 3.4x, offering an exceptional quality in magnification.
The scope also features a video-out capability, allowing a user to easily record the scope's imagery and view in NTSC and PAL formats. The high-quality thermal imaging technology offered in this scope allows you to view clearly through dark, haze, snow and fog without any impact on the quality of the scope's view.
The display of the scope is AMOLED SVGA with a resolution of 800 x 600. Unlike most other thermal scopes, this scope offers a 60 Hertz refresh rate which makes it perfectly suitable for clear viewing and use even when the target object is moving at high speeds.
Armasight has equipped the scope with various color options, allowing a user to choose from White Hot, Black Hot as well as multi-color modes for clearer contrasts. This scope is an excellent choice for professionals as well as casual thermal scope enthusiasts.
#4. Pulsar HD38A Quantum – Cheap Thermal Scope
Pulsar has been manufacturing thermal imaging products for a long while. The company is known for producing high-quality thermal scopes with extensive features.
The Pulsar HD38A Quantum scope falls well within this category. This scope comes with a plethora of incredibly useful features.
The most notable among these is an exceptionally long range of the scope, offering quality thermal detection and viewing up to 1400 yards.
The scope features a thermal core resolution of 384 x 288 and works perfectly well through all weather conditions, during both day and night.
This scope offers a refresh rate of 30 Hertz, making it a good choice for thermal viewing of static objects or objects that move at a slow pace. The scope features an LCD display with a resolution of 640 x 480, offering good and crisp image quality.
Upon long-distance viewing, user can make use of the 2x digital zoom of the scope which zooms in on the target object without affecting the quality of the image. Users can choose from black hot and white hot contrast options, switching between the two to observe and view a target object more clearly.
The scope comes with automatic, semi-automatic and manual calibration modes. The scope ships with a tripod mount as well as a weaver rail, allowing the user to quickly mount or dismount it on a firearm or use it as a standalone scope. So if you are looking for the best handheld thermal imaging scope then this scope is also a great choice.
#5. ATN ThOR HD 384 Smart Thermal Riflescope
The ATN ThOR HD 384 Smart Thermal Riflescope is a thermal scope that is specifically meant for use with your rifle.
For this purpose, the scope has several specializes built-in features. Notable among these is the Ballistic Calculator.
This feature allows you to trace and calculate the trajectory of your bullet as you shoot in the dark at night. If you are going to use this riflescope for hunting and shooting, this feature can be very handy.
The ThOR scope also comes with a built-in Smart Rangefinder. The Rangefinder helps you accurately adjust the Point of Impact and achieve greater accuracy in shot placement.
This eliminates the common problem that most scopes pose when they cause inaccuracies in shot placement. The ATN Laser Ballistics Smart Laser Rangefinder that comes with this scope lets you accurately measure the distance to within 1-meter of the target. The zoom on the scope is clear and smooth, letting you magnify the position of the target without losing your FOV.
ATN has also equipped the scope with HD video recording using an SD card. So you can essentially capture all the fun and adventure of your nightly hunting excursions when using this scope. To top it, the scope also allows you stream the video in live using Wi-Fi streaming. So you can essentially share your adventure in real-time with friends and family.
#6. Armasight by FLIR Predator 336 2-8x25mm Thermal Imaging Rifle Scope – Great for The Money Option
The latest FLIR Predator scope comes from one of the most reputed manufacturers of thermal imaging devices. Armasight is the go-to thermal imaging brand for many law enforcement agencies, military personnel and hunting enthusiasts.
The company consistently delivered quality, top performance and highly reliable products and this is also one of the best affordable thermal scopes.
These features are well reflected in the latest Predator thermal imaging weapon sights. This model is the smallest and lightest in the Predator family, making it incredibly handy to carry during hunting excursions.
The scope comes with multiple reticle patterns and the controls on the scope are intuitive once you get the hang of them.
Most of the controls can be adjusted by directly using buttons or using button combinations as well as electronic menus. Like the ATN ThOR, this scope can also record, although the Digital Video Recorder capability is optional and doesn't come with the default gear. The scope also has a video-in feature, letting you overlay maps and other visuals over the real-time imagery.
Mounting and de-mounting the Predator 336 is quite easy, thanks to its quick-release locking mechanism that is compatible with multiple rail systems. To make sure you are able to lock in on the target easily, the scope offers up to 6 digitally controlled reticle patterns, letting you choose the one that best suits you. So you can be sure that this is going to be a durable addition to your hunting gear.
#7. Pulsar Apex XD50A Thermal Riflescope
The Pulsar Apex XD50A Thermal Riflescope is a popular choice among hunting pros. This is simply because this scope comes with the sheer breadth of features that many other scopes lack.
For a start, the menu options and menu navigation on this scope is incredibly easy and intuitive. You can use three buttons to adjust all the key scope controls, and a single button to easily browse through the main menu.
The zeroing function of the scope is also a winner. Many scopes require some serious zeroing and it can be quite a hassle. In contrast, the Apex A comes with a one-shot zeroing with freeze function. And as the name says, you will probably end up zeroing the scope with a single shot.
The sensor resolution on the scope is 384 x 288 with a 640 x 480 LCD display. An OLED display version of this scope also exists which is considerably cheaper, so if you are on a budget you may want to go with that.
To deliver optimal and tailored performance in different scenarios, the scope offers three modes: Rocks, Forest and Identification.
Thermal Scope and Night Vision Scope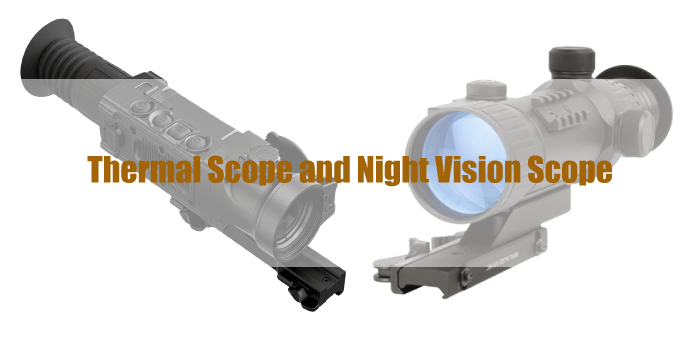 If you are looking for a way to be able to view clearly even in low light conditions, you can choose from thermal scope and night vision scope. Both of them allow you to see in low light although both use different methods and have their own advantages.
Thermal imaging simply works by detecting the heat being given off by an object, such as an animal, a human or car. If the object being viewed is significantly hotter than the surrounding atmosphere, a thermal scope is able to detect it and make the object clearly visible in contrast to the surrounding area. Thermal scopes use this method to detect even small temperature differences.
Most thermal scopes display the heat map in shades of grey, so that the object that is hotter than the surrounding area may appear lighter in contrast to the surrounding. More advanced thermal scopes may display a color map where various temperatures in the view are displayed in various colors.
Night vision scopes, in contrast, work differently. A night vision scope simply amplifies the amount of light in dark circumstances and uses this light to enable you to view in the dark. High-quality night vision scopes may be able to utilize starlight and moonlight being reflected off ground or the tree leaves to illuminate an otherwise dark scene.
However, there must always be some light for a night vision scope to work at all. The lower the light, the poorer will be the result of the scope.
Conclusions
At the end of the day, the best thermal scope is the one that is best able to offer the features and performance-level you desire without constraining your budget.
As stated above, you have to determine the features that you require in your scope as well as other preferences before you assess various scopes.
The 7 thermal scope reviews provided above shortlist some of the industry-best thermal scopes out there from the leading manufacturers in the market. You can choose from among them or you can look for a more suitable scope based on the details provided in this guide.