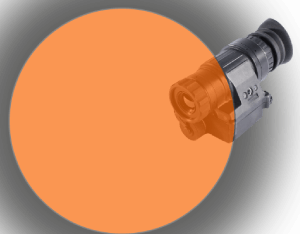 With technology constantly improving, it is becoming increasingly difficult to identify the best thermal monocular for indoor and outdoor applications.
In addition, there are many factors to consider when buying a thermal monocular. Here is a comprehensive review of some of the best thermal imaging monocular on the market.
Best Thermal Monocular 2018
10 Key Factors that Should Affect Your Thermal Monocular Choice
Thermal monocular devices are used by firefighters, law enforcement personnel, hunters, rescue workers and in various other fields. These devices detect the presence of humans and animals by mapping a heat signature.
Although many monocular models are available, it may be hard for you to narrow down to the one that is right for you. This guide lists the key factors that should affect your choice and help you find a monocular that fits your need.
#1. Cases to use
The most important factor to consider when buying a thermal monocular is its intended use. Do you intend to use the device for nighttime hunting of hog or coyote or other animals? Is the monocular intended for scanning the premises of your home to ensure security? Or is it going to be utilized for other surveillance and scanning purposes?
Your intended use will determine what type of monocular will best suit you. For instance, a monocular for home security doesn't need a significant detection distance.
But when you are hunting outdoors and using a monocular, you will need a good detection distance in order to discern the target precisely.
So you should determine the detection range, weight, magnification, resolution and other details of the monocular depending upon its ultimate usage.
#2. Easy to operate
Ease of use is important when it comes to a thermal monocular. This is simply because you will potentially use the monocular in sensitive situations such as hunting, surveillance and home security. So you want the device to operate easily and offer quick navigation.
You may need to check out different models to see which one feels most intuitive to you. The ideal monocular will be one which has conveniently placed controls that are easy to manipulate and let you tweak the relevant settings quickly.
#3. Weight
The weight of a monocular device is a very important factor. When you are hunting outdoors for hours on end, a heavy monocular quickly becomes a burden.
So if you intend to use the monocular extensively, you should go with a more light-weight model. However, you may need to slightly compromise on this factor.
Lighter monocular models are available but they often lack the advanced features that heavier models offer. So you may have to strike a balance between performance and weight in order to find a monocular that's best suited to you.
Thermal monocular devices are typically used outdoors. This is why they must also offer good mobility. A monocular that can be easily carried around and stored is perfect for use during hunting, surveillance, home security and other purposes.
In most cases, you may need to switch quickly from regular view to thermal scanning view in order to locate targets or potential threats.
A monocular with good mobility allows you to make the switch with ease and speed. Mobility also ensures that the monocular can be carried and stored without spending a lot of time.
#4. Detection distance
The detection distance of a monocular is usually identifiable from its magnification power. A monocular with a larger magnification power can enlarge a distant shape or image to a greater degree. This enables you to see a distant image more clearly and discern more details.
A smaller magnification power means that a monocular can enlarge and make clear an image over a smaller distance. So it has a smaller range of effective imaging.
#5. Mobile-friendly
In many cases, you may want to store the imagery of a thermal monocular so that you can view and analyze it later. This is particularly the case if you use the monocular for surveillance purposes.
Many monocular models come with support for mobile devices. Some even have an app that lets you directly stream the monocular's video to a mobile device.
This is immensely useful especially if you are going to share the monocular data across a group or with friends or colleagues who are remotely situated.
It also allows you to stream the video and then store it on a device with sufficient internal storage space.
#6. Thermal Sensor
Most thermal monocular models come with Forward-Looking Infrared (FLIR) sensors. These sensors come in different degrees of performance.
The metrics that indicate a thermal sensor's performance usually read like 640×480, 160×120 and 320×240.
The thermal sensor is the most vital component of a thermal monocular. It is this sensor that detects the degree of heat emitted by various objects being viewed through the monocular.
The sensor then maps and displays the heat signature of these objects in varying degrees depending on the amount of heat emitted by them.
#7. Include Mode Day and Night
The great thing about thermal monocular models is that they come with both day and night vision modes. Thermal imaging relies on mapping the heat signature of a human or an animal in order to detect them.
This signature is then displayed as an image so that you are able to detect their presence. This mapping can be effectively done by thermal imaging in light as well as dark conditions.
You can choose a monocular that offers both modes or a model which offers the mode that you need. For instance, if you intend to use the monocular for nighttime hunting, you can make do with a model that only offers night mode.
If you are going to sometimes hunt during day, in foggy conditions as well as at night, a model that offers both day and night modes will be more suitable.
#8. Image Palettes
Color contrast is essential when you are viewing through a thermal monocular. It is the color contrast that lets you distinguish a heat-emitting object such as a human from a non-heat emitting object such as a wall or a stone.
At the same time, a good color palette also offers distinction between objects with varying degrees of heat emission.
The White Hot palette is most commonly used in FLIR thermal monocular models. This palette displays warm objects in different degrees of white, against a dark background.
The resulting view is very realistic and allows you to discern the details quite precisely.
The Black Hot palette reverses the image so that warm objects are shown in different shades of black against a white background. This is particularly useful for nighttime use.
At times when the scene in front of you has a very low contrast, the Rainbow HC palette is the perfect choice. This palette uses a wide range of spectrum to display a thermal image with various colors.
The warmer an object is, the deeper is the shade of red it is displayed in. This palette is useful if you want to see small temperature differences vividly.
Yellow or Sepia is another color palette frequently offered in thermal monocular devices. This palette provides a contrast by using a yellow/black combination.
Heat signature is shown in shades of yellow against a black background. This combination is particularly preferable if you are going to use the monocular for long stretches of time on end.
If you want the warmer objects to stand out clearly without requiring too much object detail, Arctic palette is a good choice. This palette uses a clear outline to distinguish cooler objects from warmer ones.
Because it uses shades of blue for coolness and a kind of orange shade for the heat signature, it is aptly named Arctic.
You can choose a thermal monocular that offers a single or dual color palette. Alternatively, you also have the option of choosing a thermal monocular device that offers up to 7 color palettes.
As a rule, the more color palettes you have, the better it is. This is simply because you are able to achieve good visibility and scanning in a diverse set of environments.
#9. Resolution
Resolution is the clarity of the image displayed by the monocular to your eye. If the resolution is high, the image is clearer and there is more detail in it.
If the resolution is lower, the image is less clear and may become even blur in the case of very low resolutions.
Typically, you should go with a monocular that offers higher resolution. However, exceptionally high-resolution monocular models can cost a tidy sum.
So be sure that you don't go for the highest resolution, but a resolution that is high enough to serve the purpose for you. Thermal monocular resolution is usually denoted as 320 x 240 or 640 x 480.
#10. Battery
The power source of a monocular is an important factor. If you are going to use the monocular outdoors for many hours on end, you need a battery that can power up the monocular for so long without requiring a recharge.
Monocular models usually come with rechargeable batteries or lithium-ion batteries. You can choose between the two depending on your specific needs.
Monocular models that can run continuously for a longer stretch of time without requiring battery recharge or replacement typically cost more.
You can circumvent this by choosing a device with rechargeable batteries or carry back-up batteries for emergency usage.
The thermal monocular that is a good fit for you depends entirely on your needs and requirements. You must clearly identify why you need the monocular and what do you intend to use it for. Once these questions are clear, it will be a lot easier for you to make the right choice.
Thermal Monocular Reviews
1. Armasight Prometheus 640 HD 4-32×100 (30 Hz) Thermal Imaging Monocular
Armasight Prometheus 640 HD monocular is designed for both day and night use. It features a rugged, lightweight design and is engineered with hi-tech specs for maximum performance regardless the time of day.
Similar to the new line of Prometheus monocular, this monocular is designed with FLIR Tau 2 Vox microbolometer technology. This technology boosts the monocular's sensitivity in low-light situations and enhances its 640 frame-rate feature.
Inside the monocular is a 100mm F1.0 objective lens with a 4x optical magnification. you can vary the zoom distances by 1x, 2x, 4x, and 8x. Armasight Prometheus 640 thermal also comes with an in-built 800 by 600 OLED SVGA display.
The Prometheus 640 HD monocular delivers clear and crisp images regardless of whether its day or night. An in-built active contrast enhancement function allows you to correct and optimize the contrast of the monocular to match that of the surrounding. A smart scene optimization feature helps improve visual acuity by isolating your target from the background, especially if both register the same thermal signatures.
It is possible to capture both images and videos on the Armasight Prometheus 640 HD thermal monocular. You can also digitally enhance the sharpness of the images using the in-built sharpness correction feature. This features also helps to reduce surrounding noise bringing your subject to a clear view.
2. ATN OTS-HD 384 Thermal Smart HD Monoculars
This monocular belongs to ATN's range of thermal imaging cameras which boast of an OTS-HD Obsidian core processor.  The hi-tech processor makes the monocular superfast and less lagging whether its closing in on your prey or recording the entire experience.
ATN OTS HD 384 thermal monocular features a compact light weight design. Most of the in-built functions are controlled by a touch of a button. The monocular also comes with smart features to increase accuracy and reduce guessing while hunting.
An in-built smart-range finder allows you to bracket your target with two clicks and a shift of the scope. The reticle automatically adjusts to provide an accurate point of impact. In addition, a smooth zoom feature helps you close in on your subject with minimal lags.
The ATN OTS HD 384 also comes with Bluetooth and Wi-Fi features.  It connects to a smartphone or tablet via the convenient ATN Obsidian mobile app. This allows you to connect to an even bigger screen and view the action both on scope and mobile device.
You can take HD images or record HD videos on the ATN OTS 384 thermal monocular. It has a 1080 video recording capacity with the obsidian core processor facilitates fast image capturing while in hunting action.
3. Pulsar Quantum Lite Thermal Monocular – Good for The Money Option
Pulsar Quantum Lite thermal monocular (2.5-10×23) comes in a rugged designed reinforced with fiberglass. This makes it tough and can withstand wear and tear even in the harshest conditions. The monocular is rubberized to improve its grip.
Pulsar Quantum Lite thermal monocular allows you to vary target viewing using 7 different color palettes. One of these colors is monochrome, which highlights hot areas with white and cold areas with black. This helps isolate the prey better even when hidden among thick bushes.
An in-built stadiametric range finger allows the hunter to determine distance from prey. You can now boost your chances of hitting your target whether it's a 1.7m deer or a 0.7m boar lurking in the woods. This monocular also comes with high image frequency feature, which maintains an accurate view of the prey regardless of whether you or the prey is in motion.
Pulsar Quantum Lite has three operating modes; city, forest, and identification modes. City modes enhances contrast in bright environments while forest mode boosts contrast in poorly lit areas. Identification mode boosts contrast on hot areas alone providing better details of your prey.
Similarly, this Monocular has three calibration modes, M, A, and H. M or manual mode silently adjusts the scope to avoid scaring prey. A or automatic mode allows hand-free image calibration while H mode lets you decide when it is best to automatically calibrate the image.
Pulsar Quantum Lite night monocular uses AA rechargeable batteries. The battery compartment is easily detachable for quick switching of batteries so that you can get back into action.
4. FLIR Scout TK Pocket-sized Thermal Monocular – Cheapest in This List
FLIR scout TK thermal monocular stands out due to its compact size, which makes it easy to carry around. It also packs hi-tech specs that boosts the monocular's performance in well or poorly lit environments and this is one of the best cheap thermal monocular on the market you will like it. Scout TK thermal monocular is ideal for both indoor and outdoor applications.
FLIR Scout TK pocket monocular allows you to spot distant prey. It switches to monochrome mode letting you distinguish between the hot whites and cold blacks in any environment. This improves visibility even in low-lit environments allowing you to spot prey better.
A built-in InstaAlert Feature facilitates quick spotting of prey in your hunting missions. Whether you are hiking through the woods or surveying your property, you can easily carry this monocular around since it only weighs 170g. It operates on Li-Ion rechargeable batteries that can give you 5 hours of undeterred surveillance.
Two Common Types of Thermal Monocular
Thermal Handheld Monocular
There are many different types of designs when it comes to thermal monocular devices. The most commonly used is the handheld monocular. This type of monocular is equally popular with hunters and outdoor enthusiasts.
Handheld monocular are typically compact and nifty devices which can be easily carried around. They are also light-weight and do not become a burden. Handheld monocular devices also cost low most of the times.
On the downside, handheld monocular devices are a significant hassle if you have to use them for extended periods.
For instance, if you are doing surveillance on a building or a person and need to continuously use the monocular, it can become very tiring.
Storage of a handheld monocular can also be a slight problem. You can hang it from your neck like a chain or keep it in your pocket but in either case, you need to be careful about it especially if you are doing any physical activity such as running.
Thermal Monocular Head Mount
Another type of thermal monocular devices is the head-mounted devices. As their name suggests, these devices are used in combination with a headgear so that they are mounted entirely on the head.
You can use a quick switch to bring them in front of your eye or to remove them from the eye level. However, you don't have to hold the device or use your hands for operation.
The overwhelming benefit of a head mount monocular is that it frees up your hands. You can use your hands for carrying or operating other objects, performing physical activities such as holding a weapon or climbing a wall, or for other purposes.
At the same time, the headgear keeps the monocular mounted with stability at the right eye level, giving you a steady thermal image. When mounted on a headgear, you also don't have to worry about the storage of the monocular device.
A head-mount monocular is particularly useful if you are going to use the device for extended stretches of time. For instance, if you walking and scanning at the same time, or if you are performing surveillance and need to engage with a person at any time, the head-mounted monocular provides you continuous surveillance while also allowing the freedom to multi-task.
On the downside, a head-mount thermal monocular costs more. You have to pay not just for the monocular but also the headgear equipment.
It is also somewhat of a hassle to wear the headgear and you have to be careful not to damage the headgear or the monocular mounted on it.
Conclusion
The type of thermal monocular you decide to use is determined by your personal preferences and how you intend to use it. Whether you are hunting or simply surveying your environment, a good monocular should work well in both well-lit and poorly lit environments. In addition, the best thermal monocular should easily zoom in and out even when in motion. Consider working with a lightweight monocular that you can carry around easily wherever you go without weighing you down.