With technology constantly improving, it is becoming increasingly difficult to identify the best thermal monocular for indoor and outdoor applications. In addition, there are many factors to consider when buying a thermal monocular. Here is a comprehensive review of some of the top thermal monocular on the market.
The 4 Best Thermal Monocular 2018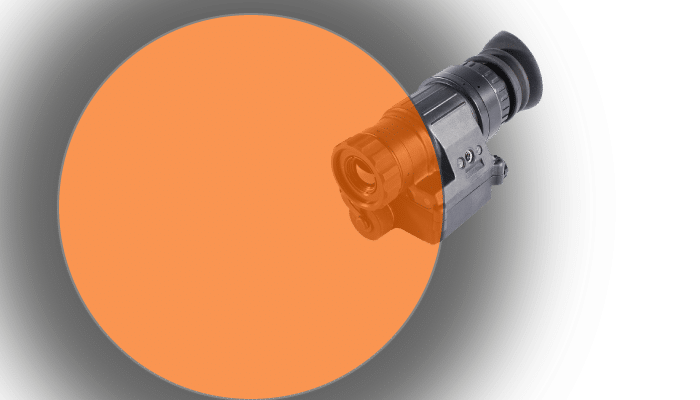 Armasight Prometheus 640 HD 4-32×100 (30 Hz) Thermal Imaging Monocular
Armasight Prometheus 640 HD monocular is designed for both day and night use. It features a rugged, lightweight design and is engineered with hi-tech specs for maximum performance regardless the time of day.
Similar to the new line of Prometheus monocular, this monocular is designed with FLIR Tau 2 Vox microbolometer technology. This technology boosts the monocular's sensitivity in low-light situations and enhances its 640 frame-rate feature.
Inside the monocular is a 100mm F1.0 objective lens with a 4x optical magnification. you can vary the zoom distances by 1x, 2x, 4x, and 8x. Armasight Prometheus 640 thermal also comes with an in-built 800 by 600 OLED SVGA display.
The Prometheus 640 HD monocular delivers clear and crisp images regardless of whether its day or night. An in-built active contrast enhancement function allows you to correct and optimize the contrast of the monocular to match that of the surrounding. A smart scene optimization feature helps improve visual acuity by isolating your target from the background, especially if both register the same thermal signatures.
It is possible to capture both images and videos on the Armasight Prometheus 640 HD thermal monocular. You can also digitally enhance the sharpness of the images using the in-built sharpness correction feature. This features also helps to reduce surrounding noise bringing your subject to a clear view.
ATN OTS-HD 384 Thermal Smart HD Monoculars
This monocular belongs to ATN's range of thermal imaging cameras which boast of an OTS-HD Obsidian core processor.  The hi-tech processor makes the monocular superfast and less lagging whether its closing in on your prey or recording the entire experience.
ATN OTS HD 384 thermal monocular features a compact light weight design. Most of the in-built functions are controlled by a touch of a button. The monocular also comes with smart features to increase accuracy and reduce guessing while hunting.
An in-built smart-range finder allows you to bracket your target with two clicks and a shift of the scope. The reticle automatically adjusts to provide an accurate point of impact. In addition, a smooth zoom feature helps you close in on your subject with minimal lags.
The ATN OTS HD 384 also comes with Bluetooth and Wi-Fi features.  It connects to a smartphone or tablet via the convenient ATN Obsidian mobile app. This allows you to connect to an even bigger screen and view the action both on scope and mobile device.
You can take HD images or record HD videos on the ATN OTS 384 thermal monocular. It has a 1080 video recording capacity with the obsidian core processor facilitates fast image capturing while in hunting action.
Pulsar Quantum Lite Thermal Monocular (2.5- 10×23)
Pulsar Quantum Lite thermal monocular (2.5-10×23) comes in a rugged designed reinforced with fiberglass. This makes it tough and can withstand wear and tear even in the harshest conditions. The monocular is rubberized to improve its grip.
Pulsar Quantum Lite thermal monocular allows you to vary target viewing using 7 different color palettes. One of these colors is monochrome, which highlights hot areas with white and cold areas with black. This helps isolate the prey better even when hidden among thick bushes.
An in-built stadiametric range finger allows the hunter to determine distance from prey. You can now boost your chances of hitting your target whether it's a 1.7m deer or a 0.7m boar lurking in the woods. This monocular also comes with high image frequency feature, which maintains an accurate view of the prey regardless of whether you or the prey is in motion.
Pulsar Quantum Lite has three operating modes; city, forest, and identification modes. City modes enhances contrast in bright environments while forest mode boosts contrast in poorly lit areas. Identification mode boosts contrast on hot areas alone providing better details of your prey.
Similarly, this Monocular has three calibration modes, M, A, and H. M or manual mode silently adjusts the scope to avoid scaring prey. A or automatic mode allows hand-free image calibration while H mode lets you decide when it is best to automatically calibrate the image.
Pulsar Quantum Lite night monocular uses AA rechargeable batteries. The battery compartment is easily detachable for quick switching of batteries so that you can get back into action.
FLIR Scout TK Pocket-sized Thermal Monocular
FLIR scout TK thermal monocular stands out due to its compact size, which makes it easy to carry around. It also packs hi-tech specs that boosts the monocular's performance in well or poorly lit environments and this is one of the best cheap thermal monocular on the market you will like it. Scout TK thermal monocular is ideal for both indoor and outdoor applications.
FLIR Scout TK pocket monocular allows you to spot distant prey. It switches to monochrome mode letting you distinguish between the hot whites and cold blacks in any environment. This improves visibility even in low-lit environments allowing you to spot prey better.
A built-in InstaAlert Feature facilitates quick spotting of prey in your hunting missions. Whether you are hiking through the woods or surveying your property, you can easily carry this monocular around since it only weighs 170g. It operates on Li-Ion rechargeable batteries that can give you 5 hours of undeterred surveillance.
Conclusion
The type of thermal monocular you decide to use is determined by your personal preferences and how you intend to use it. Whether you are hunting or simply surveying your environment, a good monocular should work well in both well-lit and poorly lit environments. In addition, the best thermal monocular should easily zoom in and out even when in motion. Consider working with a lightweight monocular that you can carry around easily wherever you go without weighing you down.