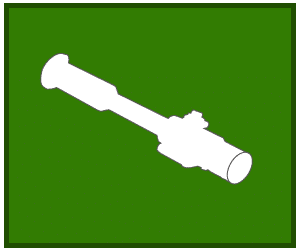 Are you planning to do night hunting? Do you want your rifle to perform the best? Do you want your night shots to be spot on? Do you think the best night vision scope is a solution to your problems?
If yes, then you definitely need a night vision scope. This little device will enable you to make the best shots when it's dark outside and there is zero visibility.
We would like to jump straight onto the best night vision scope list that we have put together for you guys. You will get to know the features and reviews about the most amazing night vision products for the year 2018.
Best Night Vision Scope 2018
Here we have the best night vision scope reviews according to the different Generations they come in. From Gen 4 to Digital scopes, we have got it all covered!
Best Gen 4 Night Vision Scope
ATN PS28 Gen 4 Filmless Autogated Day/Night Clip-On
ATN specializes in producing top-quality night vision products for its customers. Its PS28 series night vision scope is their very famous clip on scope.
This is the only clip-on night vision scope that comes with Gen 4 technology. It uses a filmless/autogated photocathode. It features image intensifier technology thanks to its detachable Infrared illuminator.
It can be mounted with a daytime scope in order to convert it into a night vision scope. You don't need any re-zeroing with this scope. With its optical scope mounting system you can attach your scope to day scopes with multiple diameters ranging from 25 to 62 mm.
PS28 has a magnification power of 1x and a resolution of 64-72 line per mm. It has a field of view of 13 degrees and a range of focus from 0.25 m to infinity.
It features multi-coated all-glass optics with a fast catadioptric system and a 40mm eye-piece. The brightness control on this night vision scope is automatic and has a light cut off too.
It is a waterproof scope that has a battery life of up to 50 hours. It runs on a single lithium battery. This night vision scope cannot be exported outside US.
It is generally recommended for security purposes as well as for hunting at night.
Pros: Easy to use, lightweight and outstanding resolution
Best Gen 3 Night Vision Scope
ATN Mars4x-3 Gen 3, 4x
When it comes to the best night vision scope, no brand can beat ATN's devices. Mars is one of their latest additions to their night vision rifle scope line.
It is a Generation 3 night vision rifle with 450mW Infrared Illuminator. This illuminator comes in a manual design with choice between red or amber colors for the illuminated reticle.
The mount on this riflescope allows for elevation adjustments and precision 120 MOA windage.
Mars has a 4x magnification on it and offers a resolution of 64 – 72 lines per mm. Its field of view is 9 degrees with a minimum focus range of 10m.
Its most standout feature is its construction and optics. It is made up of aerospace quality aluminum billet with titanium inserts. You also get a tactical digital remote control with your night scope.
When it comes to the optics, Mars has a heavy glass computer aided design with ProShield lens coating and 45 mm eye relief.
It has a waterproof as well as fog proof design. The nitrogen purged interior makes this riflescope fog proof. You can submerse your Mars night vision riflescope in water till 66 feet for about 1 hour.
Another great thing about this night vision riflescope is that you get more options in terms of selecting a battery for your device. It can operate on 1 AA battery or you can choose 1 lithium (CR 123A) battery.
You can get up to 55 hours of battery life while using a single lithium battery. It decreases to 40 hours when you switch to one AA battery. As per ATN rules, this night vision riflescope cannot be shipped outside US.
Pros: Amazing range, superb clarity and great design
Armasight CO-Mini GEN 3+ Alpha MG 64-72 lp/mm Night Vision Clip-On System
Armasight is a brand that manufactures innovative night vision and thermal imaging devices. Its CO-Mini Gen 3+ night vision clip-on system is the most compact one in the market.
It comes with Gen 3+ technology that uses Generation 3 Alpha image intensifier tube. It comes with a long range infrared illuminator that is detachable. It has a manual gain control which allows you to adjust image brightness.
It has the ability to convert your daytime scope into a night vision device. You can simply mount this CO-Mini at the front of your riflescope with the help of a clip-on system. With this device you don't require any re-zeroing. It is a mil standard compliant device.
It offers a magnification power of 1x and a similar resolution to the previous scopes. It has a wide field of view of 22 degrees and a range of focus between 20 m to infinity.
With its wide field of view this device is most suitable for hunters or assaulters.
This is a waterproof and a fog resistant device. Its interior is filled with nitrogen to keep it free from fog.
A single AA battery or a CR123A lithium battery is required to run this night vision riflescope. Lithium battery can
make it last up to 60 hours whereas with AA battery you get a battery life of around 40 hours.
It comes with a battery indicator and a wireless remote control. It cannot be exported outside US.
Pros: Compact, Lightweight and High performance
Best Gen 2 Night Vision Scope
Armasight Nemesis6x-SD Gen 2+ Night Vision Rifle Scope
Not only does Armasight sell amazing Generation 3 riflescopes, it also manufactures high-quality Generation 2 night vision scopes.
Nemesis is a Generation 2+ Standard Definition night vision rifle scope that comes with a 2nd generation image intensifier. This intensifier consists of a multi-alkali photocathode. It has a long range detachable infrared illuminator as well.
It comes with a Picatinny mount and can be mounted to weaver rails. It has a 3 accessory mounting rail system which makes mounting easy.
You get a powerful magnification of 6x on your Nemesis. The resolution is 45-51 lines per mm. Its field of view is 6.5 degrees and it has a minimum focus range of 25m.
Nemesis has all-glass multicoated optics that is made shock resistant. It has an auto bright control and an adjustable illuminated center red cross reticle.
It has a water proof design so that you can use it on rainy days as well. This riflescope is constructed using aluminum which makes it light in weight.
It requires 1 CR123A lithium battery for power. This battery can last up to 60 hours. Nemesis has a low battery indicator so that whenever your battery is low you get to know in advance.
It is sold with a remote control. Like other night vision riflescopes, Nemesis cannot be exported outside US.
It is an amazing night tool for hunters.
Pros: Comfortable, Easy to use and lightweight.
ATN Gen 2+ Night Arrow 4-2 Night Vision Weapon Sight
Specifically designed for the passionate hunters out there, ATN's night arrow series night vision riflescopes use high quality features to deliver a clear and stable image.
This is a Generation 2+ device with a detachable infrared illuminator. It has a total darkness IR system. Night Arrow can mount to a standard weaver rails.
You enjoy 4x magnification on this night vision scope. The resolution you get is between 40 to 45 lines per mm. The field of view is 7.5 degrees and the minimum focusing range is 10m.
When coming to the optics, the lens have ProSheild coating, Illuminated center red reticle, automatic brightness control and a bright light cut-off as well.
The reticle uses red on green reticle system. The auto brightness control feature allows you to have a crisp and clear image even when the light is fluctuating.
As per the environmental rating, Night Arrow is a waterproof as well as a fog-proof night vision scope.
It has a sturdy matte black body which is non-reflective. It uses one knob operation and adjusting mechanism.
It uses 1 AA battery which lasts up to 30 hours. Just like other night vision scopes you cannot export night arrow outside of US.
Pros: High quality and user-friendly
Best Gen 1 Night Vision Scope
Armasight Vampire 3X
Vampire from Armasight uses the company's latest CORE image tube which offers image quality equivalent to high-end Gen 2 devices.
CORE (Ceramic Optical Ruggedized Engine) tube gives clearer and brighter images. It amplifies the resolution up to 70 lines per mm and enhances photocathode sensitivity till 400um/lm.
It comes with a detachable long infrared illuminator. It has an illuminated crosshair reticle with red on green color that has adjustable brightness. It also has a low battery indicator.
It mounts on a standard weaver rail. Vampire has a magnification power of 3x and a wide field of view of 10.5 degrees. It has a minimum focusing range of 10m.
As far as the optics is concerned, this riflescope comes with a multi-coated all glass lens. Vampire is made up of aluminum with rubber coating on the O-ring. It is a shock-protected scope.
This scope has a water proof as well as fog proof design. It is also resistant to dust and sand.
It runs on single lithium CR123A battery and has a battery life of 40 hours. Please note that this riflescope cannot be shipped outside US.
Pros: Excellent performance, great features and easy to use
Firefield FF16001 NVRS 3x 42mm
This product is one of the best night vision scope for the money. Firefield makes night vision products for those who strive to live a life of honor. FF16001 is their very famous night vision riflescope.
FF16001 is a 1st Generation night vision riflescope that features a built-in infrared illuminator.
It has a weaver mounting system that allows you to maintain return-to-zero reliability. This mount is easily and quickly detachable.
It has a 3x magnification power with a resolution of 30 lines per mm. You enjoy a wide field of view of 14 degrees and a fixed focusing distance.
FF16001 features multi-coated glass optics with a 42mm objective lens. It has an incremental red duplex reticle with adjustable brightness. This lens has a focus of 70mm and gives an eye relief of 45mm. The lens has a flip-up protective cover.
This is a weatherproof night vision riflescope that has a strong titanium body. Thanks to its sturdy exterior, it is a shockproof device. It is not nitrogen purged and therefore is not a fog-proof device.
It operates on 2 AA batteries which can last up to 20 hours with infrared. You don't get a remote control with your night vision riflescope.
Unfortunately, FF16001 cannot be shipped outside US.
Pros: Durable, easy to Use and It is also cheap night scope.
Best Digital Night Vision Scope
Sightmark SM18008 Photon XT 4.6x42S
Sightmark offers night vision products that offer precision and quality. The Photon night vision riflescope is one of their digital generation night vision devices.
It comes with a built-in 810nm LED infrared emitter. It is can be used for both day and night vision.
You can easily mount this riflescope using a standard integrated weaver rail. You can even attach additional accessories to it.
Photon is advertised as a night vision riflescope that has higher magnification of 4.6x and a resolution of 38 lines per mm. This resolution is different from the digital display resolution which is 640×480 pixels.
You have an LCD screen to view the objects. This screen has a field of view of 7.5 degrees and a focusing range of 10 m to infinity. The range of detection is 130 / 120 yd/m
When it comes to the optics, it has a 42mm objective lens and a digital reticle that features 6 varying color styles – 2 crossbow reticles, 2 Duplex reticles, 1 Mil-Dot reticle and 1 German style reticle.
This lens can resist bright light exposure. It has the ability to record videos which makes it a great choice for users.
Photon has a shockproof as well as weatherproof design. The outer body is made up of glass-nylon/composite metal which makes it 30% lighter in weight as compared to other night riflescopes.
This night vision scope has a 33% longer battery life and it runs on 2 AA batteries. Without IR, these batteries can last up to 5 hours.
Pros: Extremely versatile and lightweight
Top Night Vision Scope Brands
ATN
ATN is a brief form of 'American Technologies Network.' ATN has been producing some of the best night vision scopes for more than two decades. The company is globally recognized for its high-quality NV scopes. Another notable feature of ATN NV scopes is that they come in a huge range. The company markets NV scopes that are inexpensive and come with basic features as well as highly advanced and expensive scopes. For this reason, ATN products have an appeal across a vast segment of the NV market.
The company also manufactures high-quality thermal imaging scope technology. The main office of ATN is based in San Francisco and the all ATN products are manufactured in the United States, making the brand a thoroughly made-in-America brand. A testimony to the quality of ATN NV scopes is that these are routinely used by the law enforcement agencies as well as the military. At the same time, ATN scopes are also used by hunters. The company is known for continuously innovating its NV scope products and keeps adding new features to them which explains why they are a hot favorite with many NV scope enthusiasts.
Armasight
Armasight is one of the most well-known brands when it comes to night vision scopes and thermal imaging products. This is because the company has pioneered many NV scopes products and technologies which are today an industry standard. The company has been around for quite some time and is known for bringing the latest R & D and cutting-edge features to its night vision scopes.
One of the key features of Armasight NV scope products is that they come in a huge variety and price range. You can purchase an Armasight Night Vision scope for as little offering only basic features. Or you can shell out so high price get some of the most sophisticated night vision scope and related gear from the same company. It is this sheer range of night vision scopes that makes Armasight a huge player in the night vision and thermal imaging industry.
Armasight is based in USA and the main office of the company is located in San Francisco. Armasight night vision scope products are immensely popular about hunting enthusiasts as well as the law enforcement agencies.
Firefield
Firefield is a relatively new company in the night vision scope industry. The company was established in 2009 and although it is a rather recent entrant in the market, it has quickly amassed a loyal following by offering quality night vision scopes. Thanks to its brilliant products, Firefield is also one of the favorite brands among pro-level hunters.
The standout feature of Firefield is that it aims to offer night vision scopes at an affordable price tag. This is a huge advantage for the customers. This makes them unaffordable for many hunters and shooters.
Firefield, on the other hand, aims to bring high-quality night vision scopes to the right customers without charging a hefty price for them. With a decline in global economy and purchasing power, it is no wonder that Firefield has rapidly grown from a new and budding brand to a well-recognized and liked brand among hunting enthusiasts. Although Firefield's night vision scopes come with a low price tag, they still offer a high quality as well as many of the features that are offered by more expensive products from the competitors.
Sightmark
Sightmark, much like Firefield, is a relatively new brand in the night vision industry. Compared to the older and more well-established brands like Armasight and ATN who have been around for decades, Sightmark has been in the market for 10 years. The company was established back in 2007 and since its establishment Sightmark has steadily grown its customer base by offering a wide range of quality night vision products.
The target market of Sightmark is also similar to that of Firefield. The company aims to offer high-quality night vision scopes and related products without emptying the customer's pockets. So you can easily find a night vision scope from Sightmark that fits your budget while at the same time, offering all the necessary features. Sightmark's rifle scopes are immensely popular among the pro-level hunters as well as shooters.
Night Vision Generation
If you are new to the night vision scope world then this frequently used word "Generation" must be confusing you a lot. It's okay! We are here to help you out.
So scope are basically characterized according to the Generation they belong to. For starters, Generation refers to the level of technology that is used for night vision.
It corresponds to how much a certain binocular intensifies the light in order to see in dark. These levels or designations are provided by the US military.
Generally you will come across 4 types of Generations with Generation 1 being the most popular and Generation 4 being the least popular.
These Generations are evaluated on three common aspects – the amount of light amplification they offer, their system resolution and how sharp and clear the image is.
Generation 1: Devices with Generation 1 night vision are the most basic, commonly used and inexpensive. They have an intensifier tube for amplifying light. Generally, the image intensifier amplifies light is less than 1000 times with Gen 1 night vision devices.
You shouldn't expect crystal clear images from these binoculars. Images are usually distorted and blurry! Addition of Infrared Illuminators to Gen 1 scope make a lot of difference and are usually preferred.
With Gen 1 night vision devices, the resolution you get in the center is 25-30 lines per mm and on the edge is 15-20 lines per mm.
This Generation can get a useful range of about 75 yards. Even within this useful range the images are subject to noise and a smaller field of view.
Gen 1 scope are generally less advanced and are prone to have a shorter battery life.
Generation 2: Slightly better than Gen 1 devices, Generation 2 night vision scope have a micro-channel plate over the intensifier which produces extremely bright images.
Unfortunately, with the addition of MCP the price of Gen 2 night vision scope has surged up.
The resolution of Gen 2 devices is slightly better than that on Gen 1 devices. It gives a much larger useful vision range that goes up to 200 yards.
Devices with Gen 2 technology do not always need IR illumination so that you can easily and more passively operate at night without making a lot of commotion.
Finally the battery life on Gen 2 night vision devices is considered to be 3 times better than that on Gen 1 devices.
Generation 3: Generation 3 night vision scope are substantially different and improved as compared to Gen 1 and Gen 2 devices.
It has gallium arsenide – a new photocathode material for a night vision bursting with light. An ion barrier in the intensifier tube has increased its life as well.
These well-lit images by Gen 3 night vision scope cost you a fortune. One such device has a whooping price so high.
Users of generation 3 devices consider these devices to give the best resolution and the brightest images. They say that you get the longest useful range with Generation 3 technology.
Night vision scope with Gen 3 are quite versatile and are considered the real deal. You can work in any type of light condition and the battery life is amazing too!
Generation 4: Finally, we have Generation 4 technology – one of the most controversial technologies that are rendered unacceptable by the US military that is why their sales are limited and rare.
These scope are filmless and can operate in daytime as well. But their ability to see in deep dark places is just amazing.
There are other generations as well but these are just slight deviations and add-ons in the basic generations that are specifically produced by a variety of manufacturers.
Night Vision Scope Setup
The construction of a night vision scope is quite simple. There is an objective lens which gathers light. Then there is a photocathode which helps in creating photons into electrons.
In Gen 1 device there is only this photocathode. In Gen 2 devices there is an additional micro-channel plate. In Gen 3 devices you get a photocathode that is made up of gallium arsenide.
Then there is a photo multiplier which is connected to a phosphor screen. The green vision you get is because of this phosphor screen. Its mechanism is explained in the next section.
Finally there is the ocular lens which lets you see the end picture. Additionally you need to get mounts in order to mount your scope to a weapon or a crossbow.
Night Vision Scope How It Works?
A night vision scope works just like any other night vision device. The objective lens captures the ambient light from the surrounding and sends it to the infrared illuminator or image intensifier tube.
Once light enter this tube, it is converted into electrons thanks to the battery powered system. These electrons then pass through photo multiplier where they are multiplied hundreds and thousands of time.
These electrons are then thrown onto a phosphor screen which turns them into a green colored image. All the reactions between electrons and phosphors convert them into thousands of photons.
This results in you viewing a much brighter green colored image on your ocular lens. Your image becomes amplified and hence you are able to see in the dark.
Here as you can see, the main role is played by the image intensifier tube which uses infrared illuminators. Without this tube, there is no night vision.
Best way to zero a Night Vision Scope?
A night vision scope is meant to be used in complete darkness. If used in daylight, a traditional night vision scope may incur damage. More recent NV scope models are not very sensitive to daylight and can be adjusted during the day. However, you will need to property zero a night vision scope before it can be used in the dark. And zeroing the scope is a hard thing to do.
The traditional zeroing method most effectively works in the case of most NV scopes. This method involves securing yourself and your rifle with scope in a stable position. Ideally, the rifle should be supported by a sandbag to make sure that when you fire it, it remains stable. Place a target nearly 100 meters away from your position.
Now turn on the NV riflescope and adjust the vision to achieve good focus and sharpness. Next, match the reticle center of the riflescope with the center of the target. Now, fire with live ammunition and after a few shots, examine the impact on the target. If the impact is right and as desired, the NV scope has been zeroed successfully. If the impact is amiss, use the adjustment knob to improve the aiming point.
Night Vision Scope vs Monocular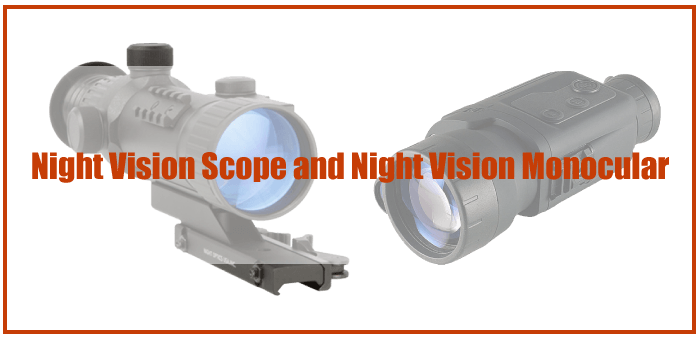 Both night vision scope and monocular can be mounted on a rifle or any other weapon in order to hunt or shoot at night.
But both these devices have their pros and cons. For instance, the long range performance you get from night vision scope is not the same with night vision monocular.
On the other hand, the versatility you get on a night vision monocular is unmatchable. You can simply unmount your monocular and use it on its own. Same cannot be done with a night vision scope.
A good quality dedicated long-range night vision scope is amazing for hunting purposes.
For a multi-tasker, a night vision monocular is perfect. You might want to ask an expert for the right decision.
What is the Difference Between Night Vision Scope vs Goggles?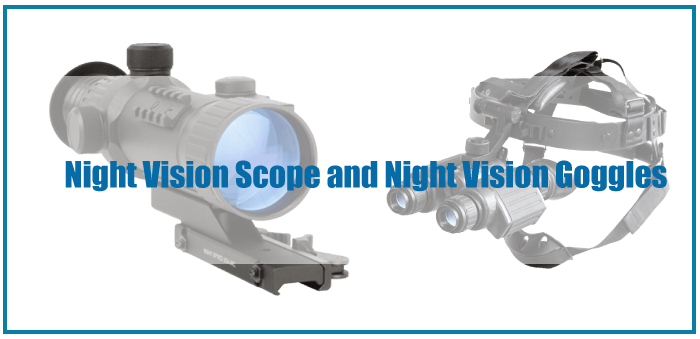 Night vision scope is usually an additional piece of night vision equipment that can be added to a rifle or another firearm. Night vision scopes can be easily attached and mounted to a wide range of firearms and can be detached equally easily.
They offer a very high quality of night vision but they are also significantly expensive. Another notable aspect of night vision scopes is that you may require the permission of the local authorities to use them, especially if you are going to use them on hunting firearms. This restriction may vary depending on the local regulations.
Night vision goggles, in comparison, are either handheld and standalone or they come with head-mounted gear, allowing you to easily wear them in helmet-style. Night-vision goggles offer quality night vision in dark areas but they can't be securely attached or mounted to other equipment such as firearms.
In contrast to night vision scope, night vision goggles require no permission from local authorities and can be freely used. In addition, night vision goggles are quite inexpensive compared to night vision scopes.
Things That You Should Consider While Choosing a Night Vision Scope
The primary purpose you buy the night vision scope:
To start off, you need to consider your primary purpose of buying a night vision scope. It can be bought for hunting or for crossbow or for your air rifle.
For hunting: If you wish to purchase a night vision riflescope for hunting at night, then we recommend you to buy any riflescope that has Generation 2 or Digital Generation technology. Anything less than this will not help you in identifying your target when it's pitch dark outside. Gen 2+ riflescope also helps you in identifying the variety of animals that you might see at night. These riflescopes have clarity and precision to them. You might want to take a look at ATN Gen 2+ Night Arrow 4-2 Night Vision Weapon Sight. This riflescope is actually designed for hunting purposes.
For crossbow: Are you planning on doing hunting with a crossbow? Are you looking for a night vision scope that fits perfectly to your crossbow? If yes, then you need to buy a night vision scope that is specifically created for mounting on crossbows. Keep in mind that mounting crossbows is very different from that on riflescopes. You need to have a night scope that is light in weight, has a magnification power of less than 6x and a wider vision.
We suggest the amazing Sightmark Photon XT 4.6x42S Digital Night Vision Riflescope that can be mounted on both rifles and crossbows. It is a light weight device with lower magnification and greater precision.
For air rifle: With an air rifle you will be hitting targets and will be requiring a night vision scope that gives you speed and precision. This cannot be achieved with Gen 1 or Gen 2 devices. You need Gen 3 or greater night vision riflescopes for shooting and security purposes. Go check out ATN Mars4x-3 Gen 3, 4x Night Vision Riflescope which is a great device for air rifles.
Durable:
Durability is very important especially when it comes to a night vision scope. These are quite expensive and you don't want your newly bought scope to be broken or damaged in just a few days.
Depending upon your usage, you might want to go for the most durable option available in the market. If you are a military personnel or someone who works for law enforcement agencies, then for you durability is of utmost importance.
But for someone who wants a night vision scope for hunting or cross bowing, it isn't necessary to look for the sturdiest scope available in the market.
For durability, we suggest you to go for Firefield FF16001 NVRS 3x 42mm Gen 1 Night Vision Riflescope, Black. This sturdy riflescope will not disappoint you!
Easy to use:
Once you are on the field you don't want to get stuck in the difficult mechanism and operating systems that some night vision scopes might have.
As an amateur or someone who doesn't have a lot of time waste, ease of use is very important. Whether you are hunting or shooting, you want your night vision scope to be usable within seconds.
You desire a scope to mount quickly and easily, operate smoothly and have features that make your task easier.
Many of the above mentioned night vision riflescopes have a user-friendly design. You might want to check them out.
Compatibility:
Compatibility refers to the ability of a certain night vision scope to get mounted to a riflescope or any other shooting device.
If you are using a crossbow then you definitely need to check if you get a night vision scope that is compatible with a crossbow.
For rifles and other weapons makes sure to get a riflescope. Compatibility falls under the mounting system of a certain night vision scope.
The scopes that we have listed in our guide all are compatible with standard weaver rail on a rifle. There are clip-on night vision scopes as well that you need to check out.
Quick Release Mount:
A quick release mount enables you to attach or remove your scope. You need to check your scope first and then purchase a compatible quick release mount for your device.
Viewing range:
Viewing range basically refers to the ability of a night vision scope to view at a certain distance. You are concerned about both your minimum and maximum vision.
It is closely related to the Generation of the scope. This means that a Gen 1 device will have a lesser viewing range as compared to Gen 2 devices.
On average, you get a viewing range of about 200 yard on 2nd Generation Night Vision Scopes.
Light conditions:
We are talking about the light conditions that there are at night. Sometimes you get a lot of moonlight and it's pretty visible outside. Somedays there is zero moonlight but you can enjoy the city lights.
But in some places there is pitch dark and there's literally no source of light. Hunters and military personnel usually go out on these kinds of places where there is not natural light.
In order for a crisp and clear image when there is pitch black outside, you should go for a Gen 3 or a Gen 4 night vision scope. This might be a little heavy on the pocket but will be totally worth it once you go out in the field.
If you are more of a stargazer or you need the night vision scope for navigation within the city we suggest you to go for a night vision scope with Gen 1 or Gen 2 technology.
Power Supply:
You need to decide which kind of power supply is most feasible for you when purchasing a night vision scope. All the night vision scopes that are sold in the market run on batteries and do not have any other power source.
Generally, single lithium CR123A battery or 1 AA battery are required to operate a night vision scope. Some scopes require more than one battery; usually 2 AA batteries.
Depending upon how much you can spend on batteries, you should choose the one that is most affordable and long-lasting.
A friendly advice – if a device requires a rare battery that is not widely available and is more on the expensive side, we suggest you to stay away from such a night vision scope and save yourself the hassle of finding these Unicorns!
Battery life:
Battery life refers to how long a certain battery survives so that it keeps your night vision scope running. Every device has its own battery life.
The maximum battery life that we have seen amongst our best night vision scopes is up to 60 hours and that too with a lithium battery. When you use AA batteries the battery life generally drops to 20-40 hours.
Another thing when considering the battery life of a night vision scope is using the scope with infrared and without infrared.
The infrared illuminator uses a lot of battery and can last only a few hours if used consistently. Your scope operates for longer time without infrared turned on.
If you are using your night vision scope for shooting purposes where you will be on the field shooting without having the time to change your batteries again and again then go for one with longer battery life.
Operating Temperature:
Operating temperature is the temperature in which you can use as well as store your night vision scope. Each of these scopes comes with a temperature range in which you can use your scope.
For instance, Vampire from Armasight has an operating temperature between -51°C to +45°C. Any temperatures greater or less than this range will potentially damage your scope.
Photon by Sightmark, on the other hand, supports temperatures ranging from – 15 to + 50 degree Celsius.
So if you will be taking your night vision scope out in the scorching deserts or chilling mountains, you need to consider its operating temperature.
Conclusions
To sum it all up, we have reviewed and presented to you the best night vision scope in each category that is from Gen 1 to Gen 4 to Digital Generation.
We have also explained in depth the why and how of a night vision scope. We have also given a detail guide to the Things to consider when choosing a night vision scope.
We hope that all the information in this guide was useful and informative.
Finally, we conclude our guide by wishing you good luck in their mission of finding the best night vision scope for yourself.